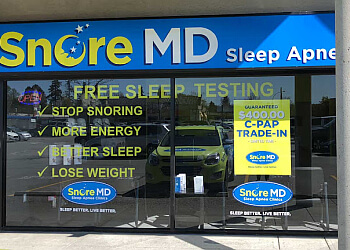 Snore MD Sleep Apnea Clinic Delta is a well-established chain of sleep clinics in Delta, Canada, known for providing a modern and welcoming environment. Their primary goal is to promote healthier lives for all their patients. This sleep clinic delivers high-quality, patient-centred care and prioritizes community health. They take pride in offering courteous and professional service, tailoring sleep apnea solutions to suit your schedule and needs. Their professionally trained staff is proficient in identifying sleep-related issues and recommending effective sleep apnea solutions. The clinic is fully equipped with cutting-edge technologies and state-of-the-art techniques to ensure its clients receive snoring solutions that yield positive and lasting results. Snore MD Sleep Apnea Clinic Delta's Sleep Experts are available six days a week, offering accessibility and convenience. With their expert guidance and personalized approach, you can look forward to enjoying the sound sleep you've been missing. To embark on your journey to better sleep, reach out to them to schedule an appointment and experience the benefits of their dedicated service.

UNIQUE FACTS:
• Free Sleep Assessment
• Virtual Appointments Available
• Wheelchair Accessible
• Provide Same-Day Appointments
• Free Unlimited Purified & Distilled Water
• CPAP Supplies.
Specialty:
Obstructive Sleep Apnea, Loud Persistent Snoring, Imnosia, Depression, Irritability, Dry Mouth, High Blood Pressure, Stroke, Witnessed Pauses in Breathing, Excessive Daytime Fatigue, Irritability and Sleepiness During Routine Activities, Level Iii Sleep Study, Restless Sleep, Early Morning Headaches, Choking, Gasping for Air During Sleep, Nocturnal Oximetry, Home Oxygen & CPAP Therapy

Serving Locations:
Vancouver/ Broadway, North Van, Port Coquitlam, Langley, Maple Ridge, Mission, Burnaby, Surrey/ Panorama, Walnut Grove, Kelowna, Lethbridge, West Kelowna, Kamloops, Prince George, Abbotsford & Gibsons
Contact:
Working Hours:
Mon-Thu: 9am - 5pm
Fri: 9am - 4pm
Sat: 9am - 3pm
Sun & Holidays: Closed
TBR® Inspection Report: