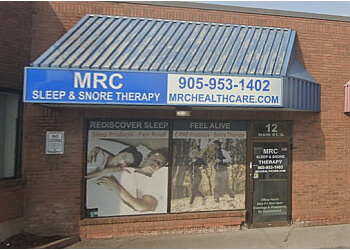 MRC Sleep Newmarket emerges as a preeminent sleep clinic nestled within the folds of Newmarket, Canada. Renowned for its excellence, the clinic boasts a specialized focus solely dedicated to CPAP Therapy and innovative sleep apnea solutions. Central to their identity are their accomplished and adept clinicians who curate an array of products and services designed to cater to the distinctive lifestyle needs of their clientele. This spans a gamut, from private in-home sleep screening to the facilitation of free in-lab sleep tests, all accompanied by comprehensive management and support. A distinctive feature of the clinic is its distinguished team of highly trained CPAP educators and sleep consultants. This cohort is deeply committed to raising the bar of excellence for their ever-growing patient community, ensuring that each individual receives tailored and impeccable care. Accessibility is a hallmark of MRC Sleep Newmarket's approach. They extend an array of offerings that range from easy-to-access CPAP appointments to in-depth mask training, encompassing every facet of PAP Therapy and sleep screening. To supplement this, the clinic offers a range of masks and machines, including CPAP, BiPAP, and APAP, ensuring that a diverse range of needs is catered to. Beyond the essentials, MRC Sleep Newmarket goes above and beyond by providing additional therapies that encompass light therapy, sound therapy, and wellness therapy, further enriching its comprehensive approach. By initiating contact, you pave the way toward scheduling an appointment, embarking on a journey toward enhanced sleep experiences through their exceptional services.

UNIQUE FACTS:
• Weekend and After-Hours Appointments Available
• In-Home Sleep Screening
• Free In-Lab Sleep Test
• Free Maintenance on CPAP Machines and Masks
• CPAP Therapy.
Specialty:
Obstructive Sleep Apnea, Snoring, Narcolepsy, Insomnia, Chocking/ Gaping While Sleeping, Dry Mouth or Sore Throat, Fatigue, Stroke, Depression and Irritability, Restless Legs Disorder, CPAP Therapy, Sleep Disordered Breathing, Anxiety Disorders, Morning Headache and Sleep Apnea Machines & Masks

Serving Locations:
Markham, Richmond Hill, Toronto, Scarborough, Vaughan & Windsor
Discount:
10% Senior Discounts Every Day
Contact:
Working Hours:
Mon-Fri: 9am - 5pm
Sat & Sun: Closed
TBR® Inspection Report: