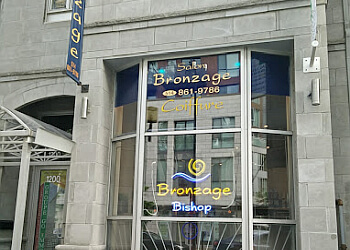 Bronzage Bishop, located in Montreal, takes pride in offering the latest and most advanced tanning equipment, ensuring the ultimate tanning experience for its customers. They pay meticulous attention to both the major and minor aspects of tanning, aiming to provide a refreshingly positive perspective on the tanning process. In their upscale salon, guests are treated to an atmosphere of comfort and cleanliness, while the professional staff ensures that they are treated with utmost respect and dignity. Unlike other tanning salons that may focus on flashy and colorful tanning beds, Bronzage Bishop places emphasis on the quality of your tan, achieved through their exceptional tanning lamps. To maintain optimal quality, the tanning lamps are regularly replaced, with all lamps changed at least 100 hours before the manufacturer's recommendation. This commitment to quality ensures a consistent and satisfying tanning experience for their clientele. Additionally, Bronzage Bishop offers comprehensive men's and women's hairstyling services, with the convenience of both walk-ins and appointments available. Whether it's tanning or hairstyling, Bronzage Bishop strives to deliver the best possible service and redefine the way people perceive tanning.

UNIQUE FACTS:
• Greatest Technology
• Premium Tanning Equipment
• Skin Care Professionals.
Specialty:
TANNING: Sunbed, Low/Medium/High Intensity & Stand-Up Bed
Discount:
Contact:
Working Hours:
Mon-Wed & Sat: 10am - 7pm
Thu & Fri: 10am - 9pm
Sun: 12am - 7pm

TBR® Inspection Report: