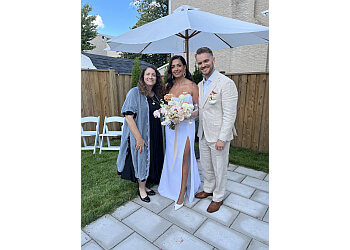 Shari Marries, a legally authorized Officiant in Ontario, holds Ordination under C.I.M.M. She excels in creating exquisite spiritual ceremonies tailored to your preferences. Regardless of whether your wedding is an unplanned event or has been meticulously planned over a considerable span of time, she is dedicated to assisting you in designing a ceremony that surpasses even your most imaginative visions. Shari Marries specializes in crafting a ceremony brimming with significance, acknowledging the deep commitment you're entering into, along with the unbridled happiness of the moment.

UNIQUE FACTS:
• Licensed Wedding Officiant
• Unique and As Beautiful
• Meaning-Filled Ceremony.
Specialty:
Regular Wedding, Rehearsal, Elopement, Ring Exchange, Traditional, Non Traditional, LGBTQ2s, Formal, Ceremony Planning, Paperwork & Marriage Licence
$Price:
Paperwork Starts From $230
Elopement Starts From $260
Cere-Mini Starts From $330
Full Length Weddings Starts From $480
Walk-Through Rehearsals $60
Pricing Varies Based on Location, Season and Day of The Week

Contact:
Working Hours:
TBR® Inspection Report: