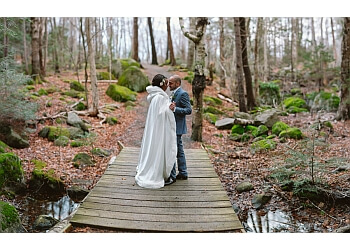 Evan McMaster Photography stands out as one of the most dedicated and esteemed photography studios in Halifax. At the forefront of this endeavor is Evan McMaster, who serves as both the owner and the primary photographer for the studio. His primary focus lies within the realm of wedding photography. Through the lens of his camera, he adeptly captures the full spectrum of moments, whether they be fleeting or grandiose. Evan firmly believes that photography possesses the remarkable ability to encapsulate a single memory, initiating a cascade of interconnected memories and the emotions they evoke. With a deep sense of satisfaction, he takes pride in stepping forward to skillfully capture every significant moment from the inception to the culmination of events. In his commitment to his craft, Evan offers unlimited event coverage, ensuring that every facet of the wedding is meticulously documented. He employs a distinctive blend of photojournalism and traditional wedding photography techniques, resulting in a collection of exquisite images that artfully depict the essence of the occasion.

UNIQUE FACTS:
• Documentary Style Wedding Photographer Who Is Based in Halifax, Nova Scotia.
• Serving Atlantic Canada and Beyond.
Specialty:
Modern, Proposal, Outdoor, Indoor, Engagement, Personal, Portraits, Bridal, Groom, Couple & Romantic Photography
$Price:
A full day of coverage is $3500 CAD (+ tax)

Contact:
Working Hours:
TBR® Inspection Report: