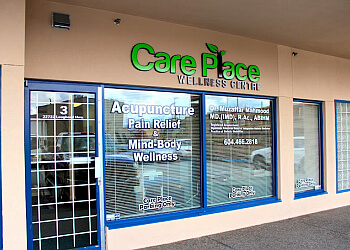 Care Place Wellness Centre emerges as a welcoming acupuncture clinic that prides itself on offering top-notch treatments in Maple Ridge, British Columbia. Dedicated to providing care rooted in genuine compassion and steadfast professionalism, they prioritize the well-being of their patients above all else. Their contributions have garnered widespread recognition and praise from physicians, healthcare experts, and the individuals they serve. The level of trust they've earned from the community is a constant source of gratitude and motivation. At the helm of this center is Muzaffar Mahmood, a registered acupuncturist with a wealth of education and training. His adeptness extends to addressing diverse concerns, encompassing pain, stress, and various other health issues. Central to his approach is creating a clean and secure environment, firmly prioritizing the well-being of his patients. As part of their commitment to accessible healthcare, Care Place Wellness Centre extends a complimentary consultation to every new patient. This underscores their dedication to ensuring that individuals receive the best possible care from the very outset.

UNIQUE FACTS:
• Comprehensive and Quality Care Treatments
• Accepts New Patients
• Free Consultations.
Specialty:
Arthritis, Sports Injuries, Lower Back, Neck, Hip and Knee Pain, Frozen Shoulder, Tennis Elbow, Carpal Tunnel Syndrome, Plantar Fasciitis, Bursitis, Tendinitis, Neuralgia, Sciatica, Headache/ Migraine, Fibromyalgia, Soft Tissue Injuries, Stress, Depression, Emotional Problems, Insomnia, Allergies, Sinusitis, Low Immunity, Menopause, PMS Infertility, IBS, Indigestion, Nausea, UTI, Smoking, Fatigue & Weight Problems
Contact:
Working Hours:
Mon-Fri: 9am - 5pm
Sat & Sun: Closed
TBR® Inspection Report: