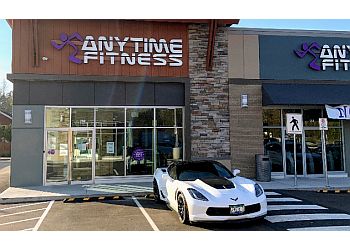 Anytime Fitness is a prominent chain of gyms in Maple Ridge. It is recognized for its dedicated staff, cutting-edge equipment, comprehensive training and coaching services, and the accessibility needed to support your journey to a healthier lifestyle. Their primary objective is to join forces with you in overcoming any obstacles that may impede your progress toward improved well-being. Their proficient trainers assist you in getting back on track, even after setbacks, while their coaches specialize in personal training. When you become a member, you'll benefit from a tailored workout plan, 24/7 access to Anytime Fitness facilities, impeccably clean surfaces and equipment, and around-the-clock security measures to ensure your safety while you pursue a healthier lifestyle. To encourage you to experience their offerings, Anytime Fitness extends a complimentary seven-day trial for your convenience.

UNIQUE FACTS:
• Schedule a Tour
• State-Of-The-Art Equipment
• Customized Membership.
Specialty:
TRX, Battle and Jump Ropes, Dumbbells, Kettlebells, Multi-Functional Rack, Medicine Balls, Plate Loaded, Barbells, Cardio Tvs, Treadmills, Exercise Cycles, Stair Climbers, Elliptical Cross-Trainers, Plyometric Boxes, Bosu, Resistance Bands, Squat Racks, Rowing Machines & Spin Bikes
$Price:
Memberships starting at $35.99 biweekly

Contact:
Working Hours:
TBR® Inspection Report: