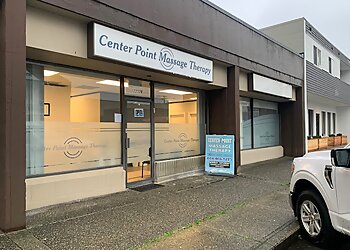 Center Point Massage Therapy, under the ownership of registered massage therapist Michelle Wood, boasts a team of dedicated registered massage therapists committed to enhancing your overall well-being. These therapists are fully registered with the College of Massage Therapists of BC and maintain good standing with the Massage Therapists' Association of BC. At Center Point Massage Therapy, their clients take precedence. They specialize in hands-on therapy that addresses the muscular, nervous, and circulatory systems. Their expertise encompasses a wide range of techniques, including traditional Swedish methods, Neuro-Muscular Therapy, ArthroKinetic approaches, and Muscle Energy techniques. Through their massages, they work to reduce inflammation, correct muscle imbalances, alleviate muscle tension, and enhance circulation, all with the aim of promoting your wellness.

UNIQUE FACTS:
• Hands-On Therapy
• Improve Your Overall Health
• Ultimate Method of Facilitating Wellness and Good Health.
Specialty:
Swedish Massage, Myofascial Release, Trigger Point Therapy, Joint Mobilizations, and Deep Tissue, Neuro-Muscular Therapy, Arthro Kinetic, and Muscle Energy Techniques, Sport-Specific Injuries, Postural Imbalances, New and Old Injuries & Chronic Pain
$Price:
First Visit $115
30-Minute Massage $65 (Senior Rate $60)
45-Minute Massage $95 (Senior Rate $90)
60-Minute Massage $115 (Senior Rate $110)
90-Minute Massage $165 (Senior Rate $155)

Insurance Accepted:
ICBC, WCB, DVA, MSP, RCMP and Private Insurance
Contact:
Working Hours:
Mon-Sat: 9am - 7pm
Sun: Closed
TBR® Inspection Report: