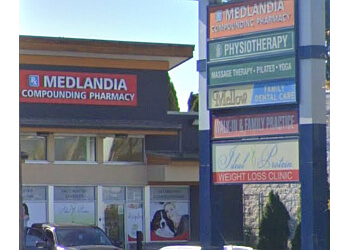 Medlandia Compounding Pharmacy, a locally owned and operated establishment in Maple Ridge, offers a comprehensive range of pharmaceutical healthcare services. At Medlandia, their aim is to provide each customer with a personalized experience, ensuring everyone feels warmly welcomed. They are dedicated to fostering strong connections within the Maple Ridge and Pitt Meadows communities. Their services encompass Compression Stockings, Medication Blister Packaging, and specialty compounding with a focus on safe disposal. Medlandia Compounding Pharmacists actively encourage the return of expired prescription and non-prescription medications to the pharmacy, participating in the free provincial safe disposal program. Additionally, they are committed to forging enduring relationships with the members of the Maple Ridge and Pitt Meadows communities.

UNIQUE FACTS:
• They offer free citywide delivery.
• Approved site to receive your Yellow Fever Vaccine.
Specialty:
Veterinarian Compounding, Diabetes Management, Hormone Replacement, Medication Reviews, Homeopathic Remedies, Travel Vaccinations, Blood Pressure Monitoring, Renewing Prescription, Smoking Cessation, Free Medication Blister Packaging, Weight Loss Program & Compression Stockings
Contact:
Working Hours:
Mon-Fri: 8:30am - 6pm
Sat: 9am - 1pm
Sun: Closed
TBR® Inspection Report: