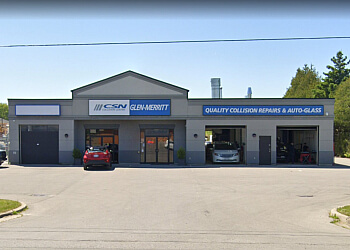 CSN Glen-Merritt Welland stands as a premier establishment in Welland, renowned for delivering top-tier automotive repair services within the auto body industry. Committed to their mission of providing unparalleled client satisfaction to their local communities, the company is under the ownership of Julio Bruno and Frank Bruno. The skilled team at CSN Glen-Merritt Welland boasts a comprehensive range of expertise, encompassing collision restoration, glass replacements, scratch and dent repairs, as well as high-quality paint services. Their steadfast dedication to excellence has solidified their reputation as the go-to auto body shop for residents seeking dependable service. What sets them apart is their state-of-the-art repair technology and the wealth of experience possessed by their auto body technicians. CSN Glen-Merritt Welland takes pride in offering the highest caliber vehicle repairs in the region. Their proficiency ensures swift and secure restoration, bringing your vehicle back to its pristine condition. Additionally, their team is committed to simplifying the repair process for you, collaborating with major insurance companies to facilitate a hassle-free experience. They extend the assurance of a nationwide warranty, offering peace of mind to their clientele. Moreover, CSN Glen-Merritt Welland provides an array of essential services, including 24-hour towing and accident assistance. They take a customer-centric approach, offering complimentary estimates and quotes to ensure transparency and satisfaction for every patron.

UNIQUE FACTS:
• National Lifetime Warranty
• 24-Hour Towing
• Accident Assistance
• Certified Technicians
• Insurance Claims Support.
Specialty:
Repair: Collision and Auto Body, Scratch and Dent, Windshield and Glass, Vehicle Paint, Paintless Dent & 24-Hour Towing
Contact:
Working Hours:
Mon-Fri: 8am - 5pm
Sat & Sun: Closed
TBR® Inspection Report: