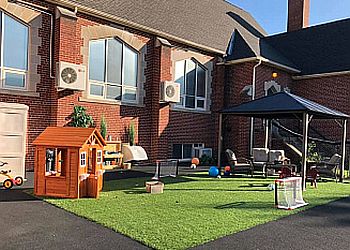 St David's Co-Op Nursery School is deeply committed to delivering an exceptional experience to students and their families. With a rich history spanning over fifty-five years in the Welland community, this preschool strongly emphasizes fostering enduring and meaningful connections with past, present, and future families. Their overarching objective is to ensure that each child receives a superior educational foundation and is equipped with opportunities to prepare them for formal schooling effectively. In addition to academic preparation, St. David's Co-Op Nursery School prioritizes the development of essential social, emotional, cognitive, and physical skills, directly enhancing children's day-to-day lives. The school's staff members are exceptionally knowledgeable in Early Childhood Education, fully meeting Ministry requirements for their respective roles, including certifications in Early Childhood Education and CPR and First Aid. They firmly believe that exposing students to such educational environments early leads to more favourable learning outcomes. Furthermore, the preschool maintains a commendable student-teacher ratio of 1:8 in their preschool program, ensuring personalized attention and care. It's important to note that students enrolling in their preschool program are expected to be potty trained or well on their way to achieving this milestone.

UNIQUE FACTS:
• Four Pillars
• Good Hand Hygiene and Cleaning
• Providing Optimal Care
• Staff Was Extremely Supportive and Helpful
• Need of Quality Care for Their Children.
Specialty:
Sounds, Alphabet, Developing a Strong Character and A Social, Mental Works, Colors, Daily Crafts, Matching, Computer Knowledge, Shapes, Numbers, Physical Activity, Fine Motor Skills, Paint, Paste, Color, Wooden Puzzle, Play with Letters and Words, Counting, Sorting, Puzzles, Rhythm, Creative Movement & Natural Love of Learning
$Price:
Toddler classes:
5 day Program: $ 261.00 per month
3 Day Program: $ 156.60 per month
2 Day Program: $ 104.40 per month
Preschool Classes:
5 Day Program: $ 261 per month
3 Day Program: $ 156.60 per month
2 Day Program : $ 104.40 per month

Contact:
Working Hours:
Mon-Fri: 9am - 12pm
Sat & Sun: Closed
TBR® Inspection Report: