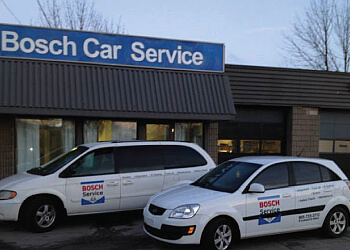 The Bosch Car Service Center is a comprehensive one-stop destination for all your automotive needs. With highly trained technicians and cutting-edge Bosch equipment, they provide a top-tier service experience. Their state-of-the-art 10-bay garage is fully equipped to offer exceptional car repair and maintenance services for all makes and models. Their specialization covers a wide range of services, including mufflers, alignment, glass, detailing, undercoating, engines, brakes, and more. You can rely on them to accurately diagnose the issue causing your check engine light to illuminate. Bosch Car Service Center stands out for featuring the best replacement parts from Bosch, which is one of the largest original equipment parts manufacturers in the industry. This commitment to quality ensures that your vehicle receives top-notch components during servicing. Their customer-focused approach includes offering complimentary services such as a free check engine light inspection and a free alignment check. For added convenience, they provide free estimates and have a 24-hour emergency hotline available. They also offer financing options to help meet your automotive service needs. Bosch Car Service takes pride in providing transparent pricing, offering free quotes, and ensuring you stay connected with complimentary Wi-Fi while waiting for your vehicle. Trust Bosch Car Service Center for a comprehensive and reliable solution to all your automotive requirements.

UNIQUE FACTS:
• Preventative Maintenance Available
• Promotions Available
• MTO Safety Inspection at $99.95 only
• Free Check Engine Light.
Specialty:
Services: Tire and Wheel, Brake, Engine, Transmission, Alignment and Exhaust Services, Heating and Aircon & MTO Safety Inspection
$Price:
Oil Change Starts at $49.95
Ministry Safety Starts at $99.95
General Labour and Diagnostics Starts from $95

Contact:
Working Hours:
Mon-Fri: 8am - 5pm
Sat & Sun: Closed
TBR® Inspection Report: