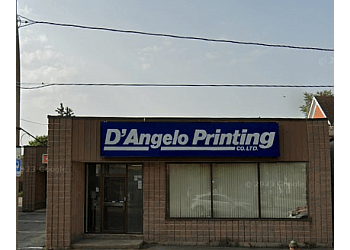 D'Angelo Printing Co is a well-established print and design company that has been family-owned and operated for over four decades, situated in the heart of downtown Welland. Their primary objective is to offer the most competitive prices, swift service, and uncompromising top quality to ensure that your business maintains a high level of profitability. D'Angelo Printing leverages the latest and most advanced printing equipment in the industry, guaranteeing top-notch quality and maximum efficiency in all their endeavors. They are steadfastly committed to delivering outstanding finished products and exceptional customer service, positioning themselves as a one-stop shop for all your printing needs. The company places a strong emphasis on utilizing quality equipment and cutting-edge technology at every stage of the production process. Their unwavering dedication is centered around not only meeting but surpassing your expectations in terms of pricing, service, support, and, most importantly, quality. To achieve this, they prioritize active listening and a deep understanding of their clients' unique needs. D'Angelo Printing Company is renowned for delivering outstanding service and unparalleled quality, ensuring their clients receive the very best in both finished products and customer care.

UNIQUE FACTS:
• Friendly and Knowledgeable Staff
• Reliable and On Time Service
• Affordable Prices.
Specialty:
Brochures, Business, Greeting and Rack Cards, Forms, Letterheads, Postcards, Posters, Presentation Folders, Print, Promotion, Labels, Design, Mailing, Signage and Marketing Solutions, Notepads, Sell Sheets & Stickers
Contact:
Working Hours:
Mon-Fri: 8:30am - 5pm
Sat & Sun: Closed
TBR® Inspection Report: