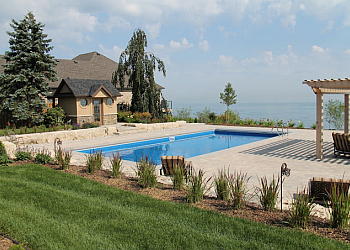 Dekorte's Landscaping Ltd. is a family-owned company in Fenwick near the Welland region. The company is dedicated to delivering exceptional landscaping services you can rely on. Over the years, they have earned and maintained a well-deserved reputation for service excellence, which they take immense pride in. With a wealth of landscaping knowledge amassed through their experience, they are well-equipped to craft an inspiring environment for your home, offering expertise at every stage of the process. Whether it's designing and constructing a new landscape or providing ongoing seasonal maintenance, their seasoned team of landscaping professionals is committed to creating outdoor living spaces that exude style and sophistication. They have a team of over 30 top-notch landscape professionals ready to help you create a prestigious landscape that fulfills your vision and celebrates your lifestyle. Each project is executed with meticulous craftsmanship, customized to meet the client's unique specifications. Their creation teams consistently unlock the full potential of every project, and they take great pride in this dedication to their work. The company is located at a distance of 8.8 miles from the downtown of Welland.

UNIQUE FACTS:
• Beautiful Space Creators
• For Almost 40 Years of Experience
• Proper Plan and Design
• Customized Service
• Professional Crew.
Specialty:
New Driveway, Updated Front Entrance, Outdoor Kitchen, Fireplace or Fire Pit, Pool Renovation, Upgrade, Patio, Deck, Fence, Privacy Screens, Pergolas, Other Structures, Expanded Gardens, Hot Tub & Spa

Serving Locations:
Pelham, Niagara-on-the-Lake, St. Catharines, Fort Erie & Surrounding Areas
Contact:
Working Hours:
Mon-Fri: 8am - 5pm
Sat & Sun: Closed
TBR® Inspection Report: