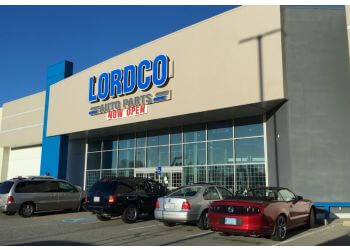 CALL
LORDCO AUTO PARTS
Since 2000
Lordco Auto Parts proudly boasts the most extensive selection of automotive parts in Richmond, British Columbia. Their team includes a multitude of knowledgeable staff and counter employees who are readily available to provide expert advice on parts. Lordco Auto Parts stands as a cherished family legacy, initially established and now proudly continued by the original owner's children for three successive generations. Over the years, the staff at their Richmond location has consistently gone above and beyond in delivering outstanding customer service to clients in need. Their recent addition of a new central warehouse and distribution system signifies a significant leap forward in their journey. Lordco Auto Parts' reputation within the community is a testament to their consistent offering of reputable auto parts and delivering exceptional customer service. To further enhance your experience, they provide free surface parking for your convenience. At Lordco Auto Parts, they are devoted to supporting your automotive needs with a level of service that exceeds expectations.

UNIQUE FACTS:
• Custom High-Performance Engine Builds
• Precise Brake Drum & Rotor Turning
• Utilizing State-of-the-Art Equipment
• High-Quality Premium Materials.
Specialty:
U-Joints, Electric/Blower Motors, Ignition Coils, Oil Coolers, Door Actuators, Block Heaters, Engine Control Products, Oil Cooler Lines, Harmonic Balancers, Sensors, Brake Master Cylinders, Coil Plug Boots, Fuses, Chassis Parts, Pistons, Batteries, Accessories, Idle Air Values, Brake Pads and Shoes, Bearings/Seals, Air Conditioning & Filters
Contact:
Working Hours:
Mon-Fri: 7:30am - 8pm
Sat: 8am - 6pm
Sun: 9am - 5pm
TBR® Inspection Report: