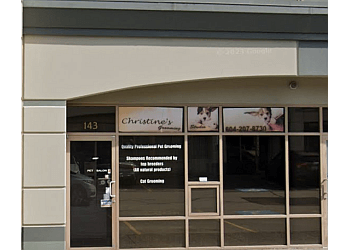 Christine's Grooming Studio stands as a cherished, family-operated enterprise driven by a fervor for the art of grooming. Their commitment is exemplified by their use of premium, natural products. With a staff that exudes friendliness and a deep passion for animals, your pets are entrusted to caring hands. Over the years, their exceptional grooming services have garnered praise for their quality. At Christine's Grooming Studio, experienced groomers offer top-tier grooming that reflects their commitment to excellence. Each animal is treated with the same love and respect that they would extend to their own, reflecting their dedication to compassionate care. With nearly two decades of service, Christine's Grooming Studio has honed their craft. They endeavor to ensure your pet's comfort and joy through a spa-like experience, demonstrating their unwavering commitment to making the grooming process both pleasant and satisfying.

UNIQUE FACTS:
• Dog Grooming Courses
• Professional Groomers
• All Natural Product
• Quality Professional Pet Grooming
• Customer Satisfaction.
Specialty:
Brush Out, Bath, Teeth Clean, Face Trim, Haircut, Feet, Ear Plucking/Clean, Tail Trim, Nail Clipping & Cutting
Contact:
Working Hours:
Tue, Wed, Fri & Sat: 8am - 5pm
Thu: 8am - 7pm
Mon: 10am - 6pm
Sun: Closed
TBR® Inspection Report: