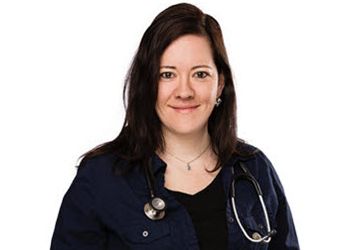 Dr. Kathryn Brown accomplished her medical training in internal medicine and adult cardiology at the University of Calgary. Her expertise was further honed during her echocardiography fellowship at the University of California, San Francisco. Dr. Kathryn Brown holds the esteemed positions of Medical Director of Cardiac Diagnostics for the Interior Health Authority and Echocardiography Lab Director for Kelowna General Hospital. She welcomes new patients seeking her care. Kelowna Cardiology Associates offers a comprehensive range of on-site diagnostic tests, including Electrocardiograms (ECG), 24-hour Holter monitoring, 24-hour blood pressure monitoring, stress testing, and cardiac ultrasound (Echocardiography).

UNIQUE FACTS:
• Telehealth Appointments
• Offers a Safe and Pleasant atmosphere.
Specialty:
CONDITIONS:
Hypertension, Cardiomyopathy, Atrial Fibrillation, High Blood Pressure, Chest Pain& Coronary Artery Diseases
Contact:
Working Hours:
Mon-Fri: 8am - 4pm
Sat & Sun: Closed
TBR® Inspection Report: