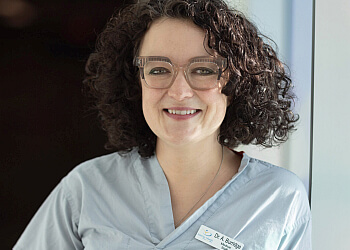 Dr. Amber Burridge is distinguished as a leading Gynecologist in Kelowna, BC. She earned her MD degree from the University of Calgary in 2009. Following her academic achievements, she completed her residency in obstetrics and gynecology in 2014. Subsequently, she embarked on her professional journey, initially working for six months in Calgary. In January 2015, she assumed a pivotal role as an obstetrician-gynecologist at Kelowna General Hospital (KGH). Her expertise encompasses specialized care for patients dealing with disorders of the female reproductive organs. She also specializes in providing comprehensive care for high-risk and complicated pregnancies. KGH is recognized as a tertiary referral center catering to extremely high-risk and preterm patients from various regions, including the interior and other parts of British Columbia. She has been focused on the safe delivery of high-risk babies, often navigating challenging situations where time is of the essence. Her dedication is particularly evident in scenarios where swift decision-making can make a vital difference in the lives of both mothers and their unborn children.

UNIQUE FACTS:
• Proficient in English
• Currently Practicing
• Holds a Full Registration Status
• Specializes in Obstetrics and Gynecology
• Certified by The Royal College of Physicians and Surgeons of Canada.
Specialty:
CONDITIONS:
Pregnancy-Related Disorder, Childbirth, Prenatal Care, VBAC, Menstrual Disorders, Ectopic Pregnancy, Miscarriage, C-Section, Pregnancy Diabetes & Menopause
Contact:
Working Hours:
Mon-Fri: 9am - 4pm
Sat & Sun: Closed
TBR® Inspection Report: