Dr. Adrian Robichaud, DC - Robichaud Chiropractic & Orthotics
Dr. Adrian Robichaud, DC - Robichaud Chiropractic & Orthotics is one of the Three Best Rated® Chiropractors in Oshawa, ON.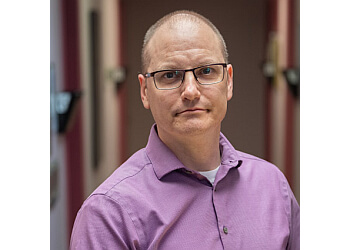 Dr. Adrian Robichaud is a highly skilled, compassionate, and dedicated chiropractor located in Oshawa. He earned his Doctor of Chiropractic degree from the esteemed Canadian Memorial Chiropractic College. Dr. Adrian's primary goal is to assist individuals in alleviating their suffering and regaining their overall health. He possesses expertise in effectively treating both acute and chronic conditions. Dr. Adrian employs a gentle and hands-on approach, utilizing techniques such as Diversified manual adjusting and the Chiropractic Adjusting Tool for precise adjustments. Additionally, he has a profound understanding of the physical demands that athletics can impose on the body. Dr. Adrian Robichaud is proficient in both English and French. Robichaud Chiropractic & Orthotics, under Dr. Adrian's care, has been dedicated to providing top-quality services to patients for over two decades. They excel in helping individuals manage various common neuromusculoskeletal conditions.


Accepting New Patients
Online Appointments Available.
Chiropractic Care

Soft Tissue Work

Tension

Headaches

Sports Injuries

Spine and Joint Problems

Shoulders

Elbows

Wrists

Hands

Hips

Knees

Ankles & Feet Pain
Dr. Robichaud is an extremely patient and informative Doctor. We had to reschedule last minute several times and he never held it against us. He took all the time we needed to answer our questions, clearly explained everything, and made my daughter who suffers from social anxiety feel very comfortable and safe. Was direct and did not try to convivence us we needed more than we did.. Developed a great and reasonable treatment plan. And the option for direct billing is awesome.
I saw Dr. Robichaud for chronic neck pain and immobility. He was very understanding and friendly and took the time to examine and diagnose me. He also gave me some great suggestions to fix my issues. I've been to many chiropractors over the years and sadly none of them were able to pinpoint the cause of my neck issues. Dr. Robichaud did, and I am both grateful and appreciative for that. He is very knowledgeable and professional and I would highly recommend him!
I had a good experience with Dr Robichaud I had a lower back pain and after the first sesión my back felt a lot better he explained where the pain is coming from and is affecting the rest off my leg very knowledgeable and friendly straight to the point
Mon: 12:15pm - 4pm
Tue, Wed & Thu: 9:30am - 6pm
Sat: 9am - 12pm
Fri & Sun: Closed
Nearby Chiropractors in Oshawa: