Dr. Aly Shariff, DC - Infinite Healing Chiropractic & Wellness Centre
Dr. Aly Shariff, DC - Infinite Healing Chiropractic & Wellness Centre is one of the Three Best Rated® Chiropractors in Oshawa, ON.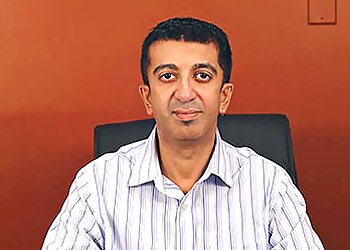 Dr. Aly Shariff is a highly trusted chiropractor specializing in wellness in Oshawa. His expertise lies in pediatric, pregnancy, and sports injury treatments. With over 15 years of experience, Dr. Aly has successfully treated individuals and families of all ages, achieving effective results through safe, gentle, and hands-on healing approaches. His main objective is to enhance the body's natural healing potential, allowing patients to experience the numerous benefits chiropractic care offers. As the proprietor of Infinite Healing Chiropractic and Wellness Centre, Dr. Aly warmly welcomes families from diverse backgrounds, catering to all age groups. The clinic boasts state-of-the-art technology, including an on-site digital X-ray machine, computerized nerve scanner, and an advanced Body Mass Index scanner, ensuring comprehensive and efficient examinations.


Offer Flexible Appointments.
CONDITIONS:
Back and Neck Pain

Repetitive Strain Injuries

Sciatica

Strains

Sprains

Headaches

Plantar Fasciitis Arthritis

Sports Injuries

Tennis and Golfer's Elbow

Whiplash

General Health and Wellbeing

Carpal Tunnel Syndrome

Restricted Movement

Work-Related Injuries

Acupuncture & Massage Therapy
The staff here is BEYOND amazing, there's a hello and a goodbye every time you come and go, while always remembering your name, making this such a welcoming environment. And Dr. Shariff is outstanding, not just as a doctor who has a full understanding of his practice, but as a person who takes each patient on and treats them with so much kindness and respect it feels less like a doctors visit and more like visiting a friend who happens to also be able to fix your spine. If you're thinking of chiropractic care, acupuncture or massage therapy, GO HERE. You will not regret it.
I've been under the care of Dr. Shariff for at least a month now. I can say that I've noticed the difference between before the treatment began and after. Now, my lower back pain has significantly decreased. If I may add, Dr. Shariff is very knowledgeable and help you understand how you can live a healthy lifestyle. I will recommend his clinic to family and friends. Before I forgot, Cathy and Stephanie are two awesome ladies who always answer all your queries.
Been to a few other chiropractor services and did not see results or felt like my health was important to them. After treatments with Dr shariff, he is passionate about making me feel better and I've seen great results with my neck and back pain. Also, if you're looking for a deep tissue massage to loosen your muscles and knots, Corey is amazing! Highly recommend!
Mon, Wed & Thu: 8:30am - 12pm|3pm - 6:45pm
Tue: 9am - 12pm|
3pm - 5:45pm
Sat: 9am - 2pm
Fri & Sun: Closed
Nearby Chiropractors in Oshawa: