Dr. Kristopher Edwards, DC - CHIROPRACTIC WELLNESS & REHABILITATION
Dr. Kristopher Edwards, DC - CHIROPRACTIC WELLNESS & REHABILITATION is one of the Three Best Rated® Chiropractors in Oshawa, ON.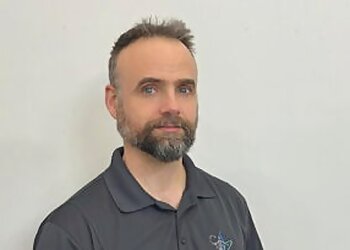 Dr. Kristopher Edwards is a well-known chiropractor based in Oshawa. He obtained his chiropractic degree from Canadian Memorial Chiropractic College. His expertise lies in delivering chiropractic care to patients of all age groups. Dr. Kristopher specializes in addressing headaches, neck and back pain, as well as discomfort in extremities. He employs a hands-on, non-invasive, and drug-free approach that involves accurate diagnosis and effective treatment. Chiropractic Wellness and Rehabilitation is a comprehensive health clinic that adopts a non-invasive methodology to promote a natural, healthy state. Their range of services encompasses top-notch healthcare for the entire family, including physical rehabilitation, laser and decompression therapy, concussion baseline testing and injury management, as well as compression stocking assessment and fitting.


Natural, Non-Invasive Health Care
Offer Flexible Appointments.
Lower Back

Pelvis

Mid Back and Neck Pain

Headaches

Pinched Nerves

Arthritis

Foot

Gait Problems

Ergonomics

Achilles Tendinitis

Carpal Tunnel

Plantar Fasciitis

Metatarsalgia

Postural and Muscle Imbalance Correction

Athletic Performance

Joint

Muscle

Sports & Motor Vehicle Accident Injuries
Dr. Edwards did an amazing job of clearing up the chronic issues I was having with nerve pain in my upper back. I'd been nervous about getting treatment, but the way he explained the treatment made me feel safe and in control. The office staff was friendly and helpful with whatever I needed and made me feel welcomed. It took less time to fix the problens and heal than I expected it would, and I am back to the gym weight training!
I had been dealing with back problems my whole life. When I pinched some sort of nerve lifting weights, I had to find a way to fix it. I went to Dr. Edwards to see if anything could be done. Dr. Edwards put me through some baseline tests and after a few visits for adjustments, which are unbelievable (you never knew you could crack that much and it feels great), my pain was pretty much gone. I'm sure I'll be going there for years to come.
Very professional. I usually see Dr. Edwards for chiropractic. He is very knowledgeable and explains what's going on with me in a way I understand. He also gives me good maintenance to do at home to help with the pain. I also see Lillian for massage. She is amazing! I can always move so much better after our sessions. Thanks for everything!
Initial Assessment (Regular)- $100.00 (includes treatment in most cases)
Initial Assessment (Senior)- $85.00 (includes treatment in most cases)
Initial Assessment (Student)- $80.00 (includes treatment in most cases)
Subsequent Visit (Regular)- $42.00
Subsequent Visit (Senior)- $37.00
Subsequent Visit (Student)- $35.00
Mon & Wed: 9am - 8pm
Tue: 9am - 1pm
Thu: 9am - 7pm
Fri-Sun: Closed
Nearby Chiropractors in Oshawa: