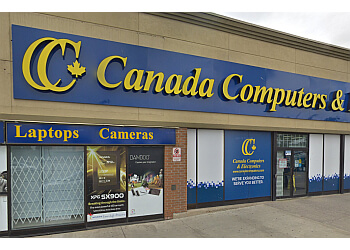 Canada Computers & Electronics, located in Ajax, ON, is the foremost company specializing in computer repairs. With a rich 32-year history, they consistently deliver top-notch services to their customers. They are adept at repairing all types of PCs and laptops, regardless of their age. Their expertise extends to both hardware and software issues, ensuring comprehensive support. What sets them apart is their commitment to providing exceptional customer service. They excel at offering effective solutions to computer problems, guaranteeing customer satisfaction. Furthermore, they remain at the forefront of technological trends, offering innovative solutions to meet your needs. Their services extend beyond Ajax, as they also cater to customers in Oshawa, Whitby, Newmarket, Markham, Richmond Hill, Scarborough, and Vaughan.

UNIQUE FACTS:
• Free System Checkup
• Knowledgeably Trained Staff
• Experienced Computer Repair Shop
• Swift and Reliable Service
• Superior Grade Materials.
Specialty:
Desktop and Laptop Repairs, Data Transfer and Recovery, HDD/SSD, and Memory Upgrade, Software Installations, Factory Reset, Hard Drive/File\HDD Recovery, USB Thumb Drives Repair, No Sound, No Boot, Broken Hinges, and Cover, Headphone Jacks, Keyboard Keys, Liquid Damage, Hardware & Slow Laptops Issues
$Price:
Motherboard Installation or Replacement $49.99
Component Installation or Replacement $14.99
Internal Dust Removal and Cleaning $39.99
Power Supply Replacement $39.99

Contact:
Working Hours:
Mon-Fri: 10am - 8pm
Sat: 10am - 7pm
Sun: 11am - 6pm
TBR® Inspection Report: