Pakcan Driving School Inc.
Pakcan Driving School Inc. Pakcan Driving School Inc. is one of the Three Best Rated® Driving Schools in Richmond, BC.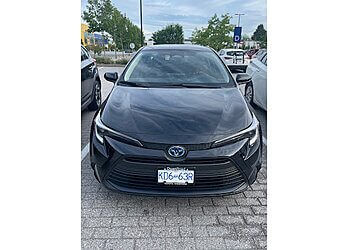 stands out as one of the premier driving schools in the Richmond area, offering comprehensive driving lessons for classes 5, 7, and 4 (restricted). They hold the esteemed ICBC certification, ensuring the highest standards of instruction. The school is proud to boast an ICBC Certified instructor with over eighteen years of professional driving expertise. Their dedicated staff members are proficient in multiple languages, making it possible for you to learn to drive in English, Punjabi, Hindi, and Urdu. Mr. Khurram, a highly skilled and diligent instructor, is at the forefront of Pakcan's teaching team. He imparts a wealth of tips and techniques, particularly in the realms of reverse and parallel parking, simplifying the learning process for complex maneuvers. Khurram's teaching approach centers on identifying and addressing driving challenges, instilling confidence in drivers for safe and secure journeys. At Pakcan Driving School, the focus is squarely on achieving results through effective learning methods. Pakcan Driving School goes the extra mile by offering complimentary pickup and drop-off services, ensuring convenience for their students throughout the learning process.


Result oriented learning lessons
ICBC Certified Instructor
Free Pick n Drop
Rental Car Available for Road Test.
Beginners

Intermediate

and Advanced Level Classes

Class 4

Refresher Skills

1

1.5

and 2 Hours Individual Driving

One and Half Hour Packages

Road Test Jumpstart & Road Tests
Excellent driving School. Mr. Khurram was a calm, experienced and kind instructor. I initially had a lot of doubts in my driving abilities, but with his guidance and teachings I became more confident and skilled. Just yesterday I was able to pass my road test! it's all thanks to him. I highly recommend him as an instructor.
Driving instructor Mr Khurrum was amazing, he showed me all the test routes possible, explained all my questions patiently as well as gave me few important detailed points which was necessary to pass the test. I would definitely recommend him as I have passed road test on first attempt after only one single class.
Ambar is an excellent instructor, I definitely would recommend her! She is very patient and professional. With her excellent feedback and lessons I was able to pass. This school was the best decision.
Individual Starts from $75
One Hour Packages Starts from $365
One & Half Hour Packages Starts from $540
Beginners Level Starts from $1250
Intermediate Level Starts from $820
In Advance Level Starts from $490
Refresher Skills Starts from $320
Road Test JumpStart Starts from $385
Road Tests Starts from $175
Class 4 (restricted) Starts from $150
Nearby Driving Schools in Richmond: