Green Appeal Property Care
Green Appeal Property Care is a family-owned and operated lawn care company in the Fredericton region. Green Appeal Property Care is one of the Three Best Rated® Lawn Care Services in Fredericton, NB.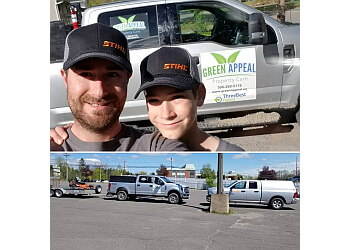 At the heart of their mission lie core values deeply rooted in honesty, reliability, and unwavering commitment to quality. Their area of expertise spans a comprehensive range of services, including lawn care, meticulous lawn mowing, and expert gardening. The genesis of their business stems from a keen observation of the need for impeccably groomed, dependable, and personalized properties. To fulfill this vision, they've invested significantly in acquiring a top-tier inventory of modern, high-quality equipment, ensuring that they provide efficient and effective service to their discerning clients. Their extensive service portfolio spans beyond the realms of lawn care, lawn mowing, and gardening, extending to encompass tree trimming, reliable snow removal, and efficient snow blowing. With this comprehensive range, they are well-equipped to meet the diverse needs of their valued clientele.


Reliable
Efficient Services
Bulk Landscaping Materials Delivery Available.
Lawn Care

Lawn-Mowing

Gardening

Tree Trimming

Snow-Removal

Snow Blowing

Garden Tilling & Driveway Grading
Green Appeal does my snow removal and I highly recommend their services. This is my third year with them and Mike does an excellent job, keeps clients informed about changes in service time. and always responds quickly whenever I have questions. He's also very accommodating if I need to get my car out at a certain time.
Great company. Mike is very responsive and provide constructive suggestions. He is professional and timely. He also uses digital tools for quote and scheduling which is great.
First class customer service! Mike is great to work with, he is quick and responsive. You can always count on him to find a solution to your problem.
Nearby Lawn Care Services in Fredericton: