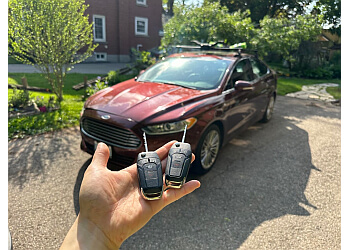 Luu Locksmith Guelph, a local locksmith establishment, has been serving the Kitchener/Waterloo vicinity and its adjacent regions since 1995. With a roster of skilled locksmiths who have undergone professional training, the company extends a wide spectrum of services. When confronted with lock-related predicaments, they emerge as the most dependable rescue team to summon. Whether it involves restoring antiquated locks, substituting compromised ones, or introducing novel locking mechanisms, their expertise ensures optimal security measures are in place. Additionally, Luu Locksmith Guelph is equipped to address automotive locksmith requirements, boasting the credentials of licensed and accomplished locksmith professionals. What further distinguishes them is their unwavering availability, offering emergency locksmith services around the clock. Luu Locksmith Guelph is prepared to provide a complimentary consultation for those seeking insights and guidance. Their commitment to safeguarding your security and well-being is at the heart of their endeavours. Feel free to reach out to Luu Locksmith Guelph to access their expertise and support.

UNIQUE FACTS:
• 3600 Customers Served and Counting!
• #1 Highest Rated
• High Quality
• Offering Competitively-Priced
• Committed.
Specialty:
Commercial and Vehicle Lockouts, Lost Keys, Key Programming, Mortise Lock and Door Re-Keying, Panic Bar, Gripset / Handleset Installations, Repairs & Installations

Kitchener, Guelph, Cambridge, Hamilton & Brantford
Contact:
Working Hours:
TBR® Inspection Report: