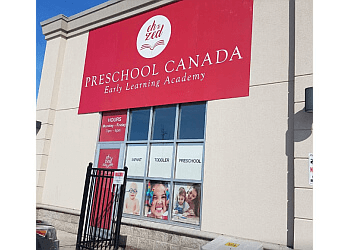 Eh to Zed Preschool Canada Early Learning Academy stands as a prominent preschool within Guelph. At its helm is Ericka Barahona, serving as the proprietor and director of this establishment. The preschool is distinguished by its distinctive curriculum, designed to facilitate the growth and development of all children according to their individual capabilities. Centered around a play-based approach to learning, their curriculum empowers each child to take the reins of their educational journey, honing in on their interests to foster enriching learning experiences. Within this preschool, an inviting, nurturing, secure, and compassionate environment is cultivated. This encompasses a flexible schedule tailored to suit the needs of your child. The programs are meticulously crafted to align with the developmental objectives of the children, encouraging collaborative efforts among educators, families, and communities to achieve these milestones.

UNIQUE FACTS:
• 780 Nutritious Meals a year
• 55 hours of care per week
• 1,500 + Happy Children and Families
• 10 Convenient Locations.
Specialty:
Problem-Solving, Critical-Thinking, Conflict Resolution, Speech Therapy, Language, Moving, Motor Skills, How To Respect One Another, Literacy Skills, Social and Emotional, Self-Regulation, Developing Skills Using the Elect Document & Physical Skills
Contact:
Working Hours:
Mon-Fri: 7am - 6pm
Sat & Sun: Closed
TBR® Inspection Report: