Kelly Morgan, BA, MA, RP - THE MORGAN CENTRE
Kelly J Morgan is a registered psychotherapist in North Bay. Kelly Morgan, BA, MA, RP - THE MORGAN CENTRE is one of the Three Best Rated® Marriage Counselors in North Bay, ON.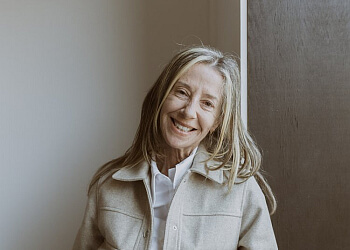 She has over 16 years of experience in the counselling field. Kelly J Morgan specializes in treating trauma, depression, anxiety, grief, parenting, loss, stress, marital and separation conflict, and PTSD. She provides psychotherapeutic services to children, adolescents, adults, and couples. She utilizes evidence-based therapies, including cognitive behavioural therapy, cognitive therapy, rational emotive behavioural therapy, attachment therapy, trauma-informed therapy, and trauma-informed therapy to facilitate the change toward emotional and psychological wellbeing. She offers integrative therapeutic approaches that are client-centered and places strong emphasis on the emotional and psychological barriers that individuals are unaware of that continue to undermine their ability to overcome obstacles. Kelly J Morgan is the owner and president of The Morgan Centre.


Cancellation policy available.
CONDITIONS: PTSD

Self-Harming

Parenting

Emotional and Behavioural Issues

Work Culture Stress

Marital and Separation Conflict

Sleep or Insomnia

Chronic Pain

Anxiety

Isolation

Guilt

Grief and Loss

Interpersonal Relationships

Stress Reduction

Codependency

Anger Management & Individual Counselling
My family has been utilizing The Morgan Center for about 6 months. With a couple decades of experience with therapy/counseling services in and around North Bay, I'd have to say The Morgan is a refreshing change from the norm. The Admin procedures are simple to understand and their fees are very reasonable and considerate of financial situations. The multitude of qualified and experienced staff is impressive and means that Waitlists are almost non-existant. There are no restrictions on how many sessions a person is allotted, like many government-funded facilities, so you are welcome to attend as often or as little as your mental health necessitates. Kelly Morgan's oversight of her staff is thorough and attentive and provides peace-of-mind for those concerned with being counseled by "therapist's-in-training". I would recommend The Morgan Center to anyone looking for a safe and positive atmosphere to heal and grow.
Works closely with each person to develop treatment objectives, provide therapeutic assistance and address difficulties aiming to improve the client's quality of life.
Nearby Marriage Counselors in North Bay: