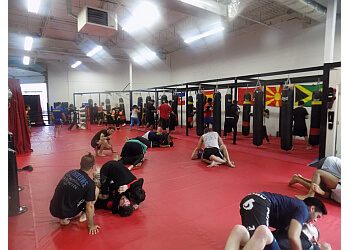 Legends Mixed Martial Arts stands as a distinctive training facility for mixed martial arts in Brampton, where a fusion of skilled trainers, tailored skill progressions, and adaptable scheduling converge to bring forth your utmost potential. Whether your objective is to acquire self-defense skills, maintain an active lifestyle, shed weight, enhance physical fitness, or fulfill aspirations of becoming a fighter, Legends MMA caters to all levels with its comprehensive training and class routines. Promoting safety and contemporary training, Legends MMA boasts a well-equipped facility ideal for physical fitness and skill development. Within this gym, you'll find an assortment of mixed martial arts equipment, premium titanium grappling mats, hurdles, treadmills, boxing rings, cage octagons, heavy bags, split machines, kettlebells, agility ladders, tire flipping setups, and an array of other resources to facilitate effective training.

UNIQUE FACTS:
• Gym Facility
• Experienced Trainers
• Free Trail Classes.
Specialty:
Personal Training, K-1 Kickboxing, Muay Thai Kickboxing, Savate (French Style Kickboxing), Brazilian Jiu Jitsu Gi and no Gi, Free Style Wrestling, Boxing, MMA, Karate, Taekwondo, Women's Bootcamp Kickboxing, Little Legends K-1 Kickboxing 4 – 7, Little Legends Taekwondo 4 – 7, Little Legends Karate 4 -7, Young Legends K-1 Kickboxing 8 – 13, Young Legends Karate 8 -13, Young Legends MMA 8 – 13 & Unlimited (Gym/Studio Usage)
Contact:
Working Hours:
Mon-Fri: 9am - 9:30pm
Sat: 9am - 3pm
Sun: 9am - 2pm
TBR® Inspection Report: