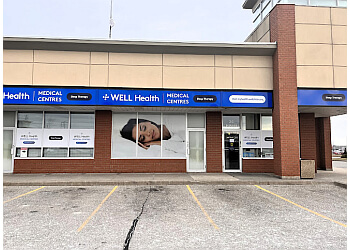 MyHealth Centre-Brampton Sleep Disorders is a cutting-edge hub for assessing and addressing sleep-related issues. This facility fosters an all-encompassing and accessible environment for patients and their loved ones. With a team of dedicated professionals, including registered polysomnographic technologists and sleep physicians, this fully equipped center stands ready to provide exceptional care. Within the walls of this clinic, seasoned and affable staff members are committed to ensuring that you receive nothing short of the finest patient care. This establishment specializes in various services, including sleep consultations, comprehensive sleep studies, and CPAP titration. These services are tailor-made to alleviate a spectrum of concerns, such as chronic fatigue, excessive daytime sleepiness, insomnia, non-restorative sleep, morning headaches, restless legs, sleep apnea, and snoring. Utilizing state-of-the-art audio-visual and monitoring equipment, the technologists oversee your sleep patterns throughout the night, ensuring thorough assessment and accurate diagnosis. A distinctive hallmark of MyHealth Centre-Brampton Sleep Disorders lies in its dedicated commitment to upholding and surpassing industry standards. To this end, they diligently review their services and facilities annually to ensure compliance and excellence. Should you wish to embark on a journey towards improved sleep and well-being, you can easily reach out to schedule your appointment at your convenience.

UNIQUE FACTS:
• Consultation
• Free Parking Available
• Wheelchair Accessible.
Specialty:
Obstructive and Central Sleep Apnea, Insomnia, Narcolepsy, Restless Legs Syndrome, Snoring, Waking Up With a Rapid Heartbeat, Dry Mouth in Morning, Difficulty Staying Awake, Sleepwalking, Feeling Irritable, Moody, Grumpy, Depressed, Excessive Daytime Sleepiness, Sweating and Uncontrollable Leg Movements During Sleep, Headaches & Snoring
Contact:
Working Hours:
Mon-Thu: 7am - 5pm
Fri: 7am - 4pm
Sat & Sun: Closed
TBR® Inspection Report: