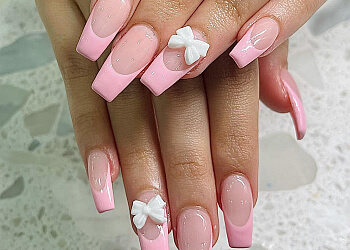 Pedi N Nails stands out as a premier destination for comprehensive nail care, offering tailored services that cater to individual preferences. The team comprises meticulously selected members who undergo rigorous training, including an award-winning chief manicurist renowned for their expertise. Infused with warmth and hospitality, the staff cultivates an urban relaxation setting, aiming to continually bring innovation to designs and stay abreast of industry trends. The salon places a high emphasis on cleanliness and safety, adhering to meticulous sanitization and disinfection procedures for all implements, equipment, and electrical tools, ensuring they are thoroughly cleansed before each reuse.

UNIQUE FACTS:
• Healthier Nails
• Strong & Durable
• Environmentally Friendly
• Looks & Feel Natural.
Specialty:
Shellac Manicure and Pedicure, Dipping Powder, Artificial Nails, Long Nail, Nail Enhancements, Polish Change Hands and Feet, French, Shellac Gel Polish, Bio-Gel Full Set and Refill, Overlay Bio Gel, Ombre Nails, Take Off Shellac/ French/ Artificial Nails, Waxing & Nail Extension
$Price:
ARTIFICIAL NAILS:
Overlay Bio Gel $63
Fullset Uv $62
Fullset Acrylic $55
Fullset Solar $65
Fullset Bio Gel $68
Refill Solar $48
Refill Acrylic $45
Refill Uv $47
Refill Biogel $53
MANICURE:

Shellac French Manicure $43
Regular Manicure $28
Shellac Manicure $38
PEDICURE:
Delux Pedicure with Regular Polish $60
Spa Pedicure $50
Shellac Pedicure $50
Regular Pedicure $35
DIPPING POWDER MANICURE :
Dipping Powder Ombre $60
Dipping Powder French $55
Dipping Powder with Extension $55
Dipping Powder on Natural Nails $50
MANICURE AND PEDICURE:
Kid Manicure and Pedicure Under 10 Years Old $50
Spa Pedicure and Regular Manicure $70
Regular Manicure and Shellac Pedicure $75
Shellac Manicure and Shellac Pedicure $85
Shellac Manicure and Regular Pedicure $70
Regular Manicure and Regular Pedicure $55

Contact:
Working Hours:
Mon-Fri: 10am - 8pm
Sat: 9:30am - 6pm
Sun: 11am - 5pm
TBR® Inspection Report: