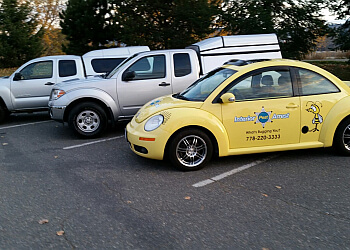 Interior Pest Arrest Inc. is an eco-friendly serving pest control company in Kamloops. The Company stands as a testament to local ownership and operation under the adept guidance of Terry Wiens, boasting a remarkable track record of over 25 years in the realm of pest control. Their commitment to excellence is underscored by their comprehensive licensing and insurance coverage, establishing a robust foundation for their operations. At the core of their expertise lies a specialization in offering unwavering pest extermination services, addressing the very source of invasion. This meticulous approach speaks volumes of their dedication to ensuring a thorough resolution. Their certified exterminators come armed with a wealth of experience garnered over years of successfully combating an array of pest infestations. Notably, their pest management practices are imbued with eco-consciousness, utilizing green and environmentally friendly products and treatments that underscore a commitment to safety. Their reputation is synonymous with quality and professionalism, embodying their dedication to delivering exceptional services that are second to none.

UNIQUE FACTS:
• Immediate Attention 24/7
• Emphasis on Environmental Safety
• Free Estimate
• Service Documentation
• High-Protection.
Specialty:
Real Estate Termite/Pest Inspections, Hornets, Wasps, Pigeons, Rats, Carpet Beetles, Rodents, Insects, Earwigs, Spiders, Cloth Moths, Flies, Mice, Ants, Bed Bugs, Marmots, Bedbugs, Skunks, Termites, Cockroaches, Birds & Squirrels

Serving Locations:
Kamloops, Salmon Arm, Shuswap, Nicola, Cariboo, Chase, Merritt, Sun Peaks, Sorrento, 100 Mile House, Williams Lake, Tappen, Eagle Bay, Blind Bay, Clinton, Notch Hill, Adams Lake, Little Shuswap, Lee Creek, Scotch Creek, Celista & Surrounding Areas
Discount:
10% Off for Seniors on Their Pest Control Services
Contact:
Working Hours:
TBR® Inspection Report: