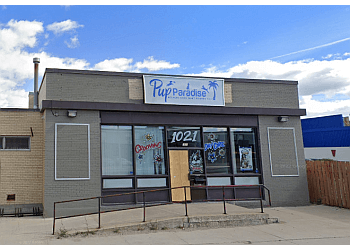 Pup Paradise is an exceptional grooming salon run by dedicated pet lovers who are also skilled professionals. Their utmost priority is the well-being of your pets, with a strong emphasis on both their appearance and health. They firmly believe that regular grooming contributes to the overall health and happiness of your furry companions. The salon's culture revolves around providing top-notch service, going above and beyond to ensure that every pet and their owner have a wonderful experience. Their team is like a caring family, always ready to go the extra mile to assist you and your pet in any way possible. Specializing in pet cuts for all breeds, Pup Paradise aims to share their extensive knowledge about pet well-being with pet parents, establishing long-term relationships based on trust and care. Their ultimate goal is to spread happiness among all their customers and their beloved furry friends. When you choose Pup Paradise, you can rest assured that your pets are in loving and capable hands, receiving the best possible care and attention to make them a little happier with every visit.

UNIQUE FACTS:
• 5200 Sq Foot Canine Service Facility
• Online Booking Options
• Home Services for Nail Trims and Filing
• Providing Quality, Affordable Grooming Services
• Doggy Daycare and Overnight Boarding.
Specialty:
Burt's Bees Moisturizing Paw Lotion, Brush and Comb-Out, Paw Tidying, Nail Trim, Face And Bum Tidy, Nail and Foot Trim, Bath, Nail Filing, Blow Dry, Moisturizing Treatment, Full Groom, Sanitary Trim & Ear-Cleaning
$Price:
Standard Groom:
Tiny $60
Small $65
Medium $80
Large $100
Extra Large $125
Giant $150
De-Shed Short Coat:
Tiny $50
Small $55
Medium $70

Large $90
Extra Large $100
Giant $120
De-Shed Long Coat:
Tiny $55
Small $65
Medium $80
Large $100
Extra Large $125
Giant $150
De-Shed Heavy Coat:
Small $75
Medium $95
Large $130
Extra Large $160
Giant $180
Bath:
Tiny $25
Small $30
Medium $40
Large $45
Extra Large $50
Giant $60
Bbt:
Tiny $45
Small $50
Medium $65
Large $85
Extra Large $100
Giant $120
Spa Package Add on $20
Walk in Nail:
Trim $10
File $12
Trim & File $20
Pawdicure $30
Complete Dental Package $10

Discount:
50% off the price of a standard groom or de-shed OR Their famous Puppy Practice FREE OF CHARGE
Contact:
Working Hours:
Mon-Fri: 8am - 5pm
Sat & Sun: Closed
TBR® Inspection Report: