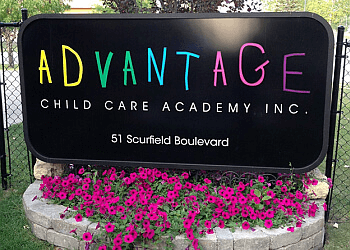 Advantage Child Care Academy stands as a prominent preschool within Winnipeg, recognized for its stature in the field. As a fully licensed premium preschool, it proudly holds Canadian ownership. The core of its purpose revolves around delivering an exceptional early childhood education encounter and atmosphere, geared towards fostering the holistic development of children's social, emotional, physical, and intellectual faculties. The teaching staff at the preschool are dedicated to providing unparalleled care and a wealth of learning prospects, catering to the offspring of professional working parents and students within their local community. In line with their philosophy, the preschool instills values of treating others as one would wish to be treated, nurturing positive interpersonal dynamics among children. Furthermore, Advantage Child Care Academy extends its commitment to excellence by offering enrichment programs, enhancing the educational experience for their young learners.

UNIQUE FACTS:
• Friendly & Welcoming Place
• Positive Learning Environment
• Play Based Exploration
• Engaging Curriculum
• Respect For Environment.
Specialty:
Alphabet, Reading, Writing Readiness, Building Fine Motor Skills, Printing and Eye­hand Coordination, Phonics, Listening, Oral Skills, Word Building, Thinking, Numbers, Shapes, Patterns, Problems Solving, Visual Art Instruction, Strengthening Imagination Skills, Providing Inspiration, Outlets for Self­expression, Hands-On Crafts, Dramatic, Musical Play, Drama and Expressing Feelings Through Art, Nurturing Friendships, Interacting with Peers, Playing Fairly, Taking Turns, Sharing, Group Play, Dealing with Emotions, Following Instructions, Socialization, Building Confidence and Balance Between Individual & Group Play
Contact:
Working Hours:
Mon-Fri: 6.30am - 6.30pm
Sat & Sun: Closed
TBR® Inspection Report: