The Progressive Montessori Academy
The Progressive Montessori Academy is a close-knit, community-oriented Montessori school that has been integral to the Stouffville community for many years. The Progressive Montessori Academy is one of the Three Best Rated® Preschools in Stouffville, ON.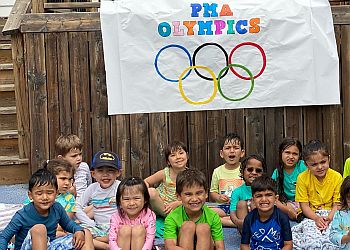 Their preschool program actively engages young children in activities that promote their comprehensive development. Every child is considered unique and special within the preschool's nurturing environment. Here, children are instilled with self-respect and respect for others, fostering kindness, care, and consideration, ultimately shaping them into responsible and thoughtful citizens. The school's primary focus is empowering each child to reach their full potential, fostering independence, confidence, and a love for learning. Bilingual instruction in French and English is provided, and children are introduced to sign language through enjoyable activities like songs and games. The Progressive Montessori Academy emphasizes creating an environment where your child can cultivate a lifelong passion for learning, facilitated by caring and dedicated teachers. The classrooms are thoughtfully designed with multi-age groupings, allowing students to progress through the materials at their own pace. Offering programs ranging from Junior Kindergarten to Grade 6, the mixed-age classrooms, where children aged 2 ½ to 5 learn together, establish community and collaboration. In these classrooms, children are presented with diverse materials that stimulate abstract and practical thinking, facilitating mastery of the curriculum.


French & English Instruction
All Day, Full Day, & Half Day Schedules
Cultural Explorations & Learning
Visual Arts & Music Programs
Best Preschools in Stouffville.
Childcare for Ages of 18 Month to 6 Years

Pre- Casa and Casa Program

Summer Camps

Individualized Programs

Learning Through Play and Discovery

All Day

Full Day

Half Day Schedules

Cultural Explorations and Learning

 Language

Mathematics

 French

Visual Arts & Music Programs
My son has been at the school since he was 18 months old and now he is 5. Mrs Jaffer is fabulous, my son can do sign language, speak french, do math and read at a grade 3 level. There is no better place in Stouffville for your kids. She is just simple the best. Mrs Henderson is a gem. The love and attention that they give to the students is second to none. You can fell very comfortable leave your children with them. We can not express how grateful we are Mrs. Jaffer, Mrs henderson and the staff. Thank you.
Ms. Jaffer & the entire staff at The PMA have given our son so much love, care, attention and guidance over his years of enrolment. The enriched education and social development he has received has been extraordinary. A safe & secure environment. Do not hesitate to enrol your child here. Well worth every penny spent!
Both of my kids went to this school. It was such a wonderful experience for our family. The teachers are amazing, and provide such a special environment for kids. The kids simply thrive there. Highly recommend!
Mon-Fri: 8am - 5pm
Sat & Sun: Closed
Nearby Preschools in Stouffville: