Anna Gurevich Business and Real Estate Lawyer
Anna Gurevich Business and Real Estate Lawyer operates as a distinguished legal establishment specializing in business law, real estate law, wills & estate, and public notary services within Oakville, ON. Anna Gurevich Business and Real Estate Lawyer is one of the Three Best Rated® Real Estate Lawyers in Oakville, ON.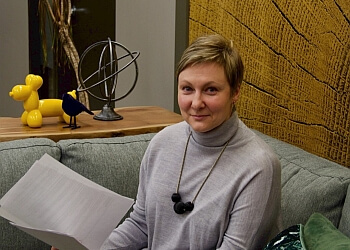 The firm's central objective revolves around orchestrating seamless transitions between life stages, aiming to alleviate stress and cultivate harmony among families and acquaintances. Their expertise extends to property acquisition and the formulation of co-ownership agreements, ensuring comprehensive assistance. Demonstrating unwavering dedication, the firm is resolutely focused on attaining successful and cost-effective legal outcomes for its esteemed clientele. With a profound commitment to efficacy and affordability, they are driven by the mission of furnishing effective legal resolutions that cater to both businesses and individuals. Strategically positioned, Anna Gurevich Business and Real Estate Lawyer boasts two strategically located offices, enhancing accessibility and convenience for clients. These offices are situated in Mississauga and Oakville, further underscoring the firm's commitment to serving the legal needs of the community.


Consultations to Assess Your Options
Direct and Personal Contact with A Lawyer
Affordable Rates
Service in English and Russian.
Commercial and Residential Real Estate

Agreement of Purchase and Sale

Preparing and Advising on Co-Ownership Agreements

Real Estate Closing

Family Transfer of Property & Transferring the Property Based on Survivorship Applications
My experience with Anna was super and I would highly recommend her. Anna is a very detailed and thorough professional. She walked us through the transaction, explained all steps, and made sure she had enough time to gather all relevant documents. We felt at all times that we were in good hands. I would retain Anna again in a minute.
Loved working with Anna! She helped me with both the sale and a purchase. She was very clear on all steps we need to take, what documentation will be required, she was also very responsive to any questions I had. Property manager of purchased unit made a mistake in the condo fees charge, and Anna dealt with them on my behalf. I've developed a trusting relationship with Anna and her team, and will definitely work with her in the future.
Anna was absolutely fantastic! I had a very quick closing that was out of my control and she was the only lawyer who was willing to help me. She was professional, knowledgeable, very thorough and very accommodating. Her rates are reasonable and her customer service is amazing! I will definitely use her services again and refer all my friends and family. Thank you very much Anna!!!
Residential Purchase (cottages/recreational property excluded): Under $450,000.00: $880.00
Between $450,000.00 and $850,000.00: $880.00
Over $850,000.00: from $950
Each mortgage (purchase) *Major Lender: $350.00
Each mortgage (purchase) *Not a Major Lender: $370.00
Each mortgage (purchase) *Private Lender: $450.00
Purchase Disbursements (Land Transfer Tax and Title Insurance excluded) Approximate: $500.00
Residential Sale (cottages/recreational property excluded):
Under $450,000.00: $900.00
Between $450,000.00 and $850,000.00: $900.00
Over $850,000.00: from $950.00
Discharge of mortgage when required to be done by a lawyer: $300.00
Sale Disbursements: Approximate $350.00

Mon-Fri: 9am - 5pm
Sat & Sun: Closed

Nearby Real Estate Lawyers in Oakville: