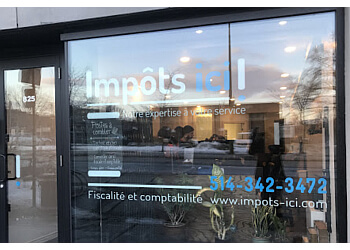 Impôts Ici ! is a reputable tax service firm located in Montreal. Their expertise lies in maximizing clients' tax returns and guiding them in making informed choices about file registration. The firm's commitment to service quality is evident through their continuous efforts to hire highly qualified and well-trained employees, ensuring clients receive advanced expertise to optimize their tax and accounting situations. The primary mission of Impôts Ici ! is to establish enduring relationships with customers built on exceptional services and knowledge, ultimately helping them achieve their financial goals. Their sterling reputation and success stem from their meticulous work and unwavering attention to detail. The firm demonstrates an excellent understanding of operating expenses and capital expenditures, which undergo rigorous government scrutiny. With a focus on delivering high-quality income reporting services, Impôts Ici ! caters to thousands of individuals and hundreds of businesses. To benefit from their services and expertise, interested parties can contact them to book an appointment.

UNIQUE FACTS:
• Onsite Services
• 23 Years of Experience
• Online appointments.
Specialty:
Deductions, American Declarations, Autonomous Work, Tax Return and Management, Self-Employed, Bookkeeping, Corporate and Personal Taxes, Rental Income, Financial Planning, Capital Cost Allowance & States Statements
Contact:
Working Hours:
Mon-Thu: 9am - 5pm
Fri-Sun: Closed
TBR® Inspection Report: