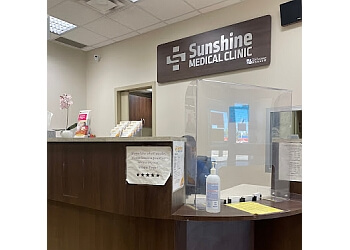 Sunshine Medical Clinic stands as a renowned walk-in clinic nestled in the heart of Winnipeg, Manitoba. Within their establishment, a cohesive team comprising family physicians, walk-in doctors, psychiatrists, and a neurologist collaborates with a single-minded focus – delivering the epitome of quality care to you. The pledge of minimal wait times and immaculate, cutting-edge facilities envelops you as you step through their doors. In the rare event of waiting, a thoughtful solution awaits – pagers are at your disposal, allowing you the freedom to explore Walmart's aisles while your turn approaches for consultation with a doctor. A constant beacon of availability, Sunshine Medical Clinic opens its doors 7 days a week, encompassing evening slots to cater to varying schedules. Recognizing the evolving landscape of healthcare, the clinic presents telephone appointments, a safety-oriented and convenient option for their valued patients. Inside their pristine and modernized premises, you'll be greeted by a team of welcoming staff, inviting you into a new-age clinic environment. Elevating their commitment to your well-being, Sunshine Medical Clinic doesn't just promise care; they create an ambiance of comfort within their physical space, carefully crafted to ensure optimal relaxation during your visit. Your experience is paramount, and their enduring goal is to furnish you with unparalleled care and service.

UNIQUE FACTS:
• Accepting new patients.
• Free parking to Short wait times
• Prescription renewals
• Insurance forms.
Specialty:
Vaccines, STI Testing, Wart Treatments, Rapid Step Testing, Urine Dipsticks, Pregnancy Tests, Sick Notes & Travel Injections
Contact:
Working Hours:
Mon-Thu: 9am - 8pm
Fri: 9am - 5pm
Sat: 10am - 3pm
Sun: 10am - 3pm
TBR® Inspection Report: