Grandway Marketing
Grandway Marketing stands out as one of the premier web design and advertising agencies within Halifax. Grandway Marketing is one of the Three Best Rated® Web Designers in Halifax, NS.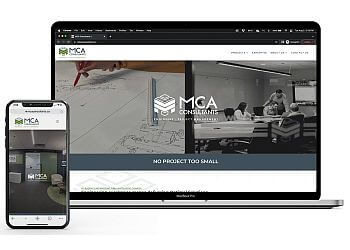 Guiding the helm is Nic Stana, the Founder of Grandway Marketing. With an extensive track record, Nic Stana has collaborated with numerous businesses, guiding them towards enhanced success and navigating the diverse prospects of the digital marketing landscape. Their forte lies in constructing websites that serve as catalysts for achieving heightened success. Grandway Marketing's repertoire spans a comprehensive array of digital marketing solutions, encompassing aspects such as website design, SEO implementation, branding and graphic design, as well as strategic email marketing campaigns. Their emphasis extends beyond mere website creation – they also excel in website maintenance and security measures. Through strategic initiatives, they drive website traffic and elevate search engine visibility by offering impactful SEO services. Moreover, their proficiency in logo design and graphic design empowers brands to distinguish themselves in the competitive digital realm. With email marketing campaigns that have proven instrumental in driving substantial sales and fostering enduring customer relationships, Grandway Marketing has established a reputation for results. Their dedicated team takes immense pride in their work, brimming with enthusiasm to collaborate with businesses, charting a course towards online success. A notable facet of their commitment to their clients is the provision of complimentary consultations, demonstrating their dedication to understanding your unique needs and tailoring their solutions accordingly.


Online appointments
Projects completed on time
Projects completed on budget
Onsite services.
Web Design

E-Commerce

Maintenance

SEO

Logo Design

Graphic Design & Email Marketing
Contacting Nic to help us create a website was one of the best business decisions we could have made. Not only were we able to create a wholesale platform for our customers, but it became a powerful tool to showcase our products in an organized way. Communication between Nic and I was a breeze and he was able to effectively and efficiently create the website I imagined. Due to the platform Nic created for us, we have been breaking revenue records back to back with no slowing down in sight. As a local small business, this is huge. I have recommended Nic to anyone that has expressed interest in having a website created professionally and I will continue to do so. If you're reading reviews to figure out who to go with, this is your sign that you've come to the right place choosing Grandway Marketing.
Nic of Grandway has been an absolute pleasure to work with. We came from a very negative experience with our last website person, and Nic managed to turn everything around. He was very knowledgeable, efficient, prompt, and very much professional. Our new website looks fantastic, and we are placing well now. He is understanding and kind, personable as well as very effective at what we does. We couldn't be more grateful, and our business will surely thrive after all his help. We couldn't recommend him enough.
Nic was a complete professional from start to finish. He provided us with an amazing website and helped us find the best options that worked for our company. 100% would recommend Grandway.
Mon-Fri: 9am - 5pm
Sat & Sun: Closed
Nearby Web Designers in Halifax: