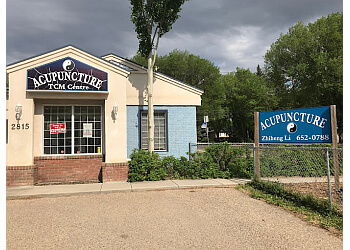 Acupuncture TCM Center is a prominent acupuncture clinic in Saskatoon, Saskatchewan. This facility offers traditional acupuncture and Chinese medicine treatments to the local populace. Zhiheng Li graduated from the Beijing University of Traditional Chinese Medicine and commenced his acupuncture practice in Saskatoon in 1995. Subsequently, he established his private clinic in 1997. With a remarkable service record over 27 years, Zhiheng Li has assisted numerous Saskatchewan patients, garnering significant recognition. He holds esteemed memberships in the Chinese Medicine and Acupuncture Association of Canada and the Saskatchewan Acupuncture Association. An unwavering commitment to kindness, empathy, and professionalism characterizes his approach to treatment. Dr. Zhiheng Li possesses expertise in utilizing Chinese Herbal Medicine, often formulating personalized herbal blends containing 5 to 20 herbs for each individual. This tailored approach guarantees the administration of precise herbs suited to the specific condition of each client, thereby facilitating optimal results within a condensed timeframe.

UNIQUE FACTS:
• Over 27 Years of Experience
• Lecture at The Third World Medical Congress of Acupuncture and Natural Medicine in Edmonton.
Specialty:
Crohn's Disease, Carpal Tunnel Syndrome, Multiple Sclerosis, Asthma, Nausea, Insomnia, Anxiety, Stress, Pain at Back, Neck, Knee, Chest, Depression, Shoulder, Anemia, Indigestion, Leg, Sciatica, Trigger Finger & Bronchitis
Insurance Accepted:
SGI & Most Insurance Companies
Contact:
Working Hours:
Mon,Tue & Thu: 9am - 6pm
Wed & Fri: 9am - 3:30pm
Sat & Sun: Closed
TBR® Inspection Report: