Dr. Maryam Mahanian Acupuncture & TCM Inc.
Dr. Maryam Mahanian Acupuncture & TCM Inc. is one of the Three Best Rated® Acupuncture in North Vancouver, BC.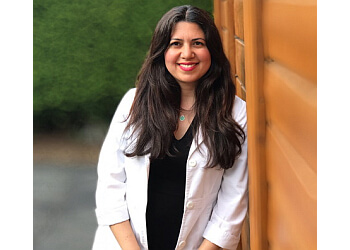 Dr. Maryam Mahanian Acupuncture & TCM Inc. is a reputable clinic in North Vancouver, BC. Dr. Maryam is a highly accomplished and proficient acupuncturist, Chinese medicine practitioner, and herbalist. With a wealth of experience, she has been dedicated to addressing a broad spectrum of health concerns, specializing in women's health conditions, infertility (both for men and women), immune system support, pregnancy-related issues, stress management, anxiety, menopause, pain management, and various general health conditions since the year 2002. As a committed healthcare professional, Dr. Maryam's primary objective is to guide her patients toward achieving a profound transformation in their overall health and well-being. She is also recognized as one of the pioneering practitioners in British Columbia specializing in Cosmetic Acupuncture. Operating from her home-based clinic in North Vancouver, Dr. Maryam offers therapeutic services, including acupuncture, Chinese herbal medicine, cupping, moxibustion, and tailored Chinese medicine-based dietary and lifestyle recommendations. Her extensive knowledge and expertise have garnered attention from various media outlets, as she has been featured on platforms such as Breakfast Television CBC's Living Vancouver and interviewed by publications like Alive Magazine, Chatelaine, The Georgia Straight, and others. Dr. Maryam Mahanian's clinic provides ample parking for the convenience of its clients.


Customized Transformational Treatment Plans
High Level of Specialized Knowledge and Experience
Online Appointment.
Cosmetic Acupuncture

Pain Management

Fertility

Pregnancy

IVF Support

Women's Health

PMS

Irregular Menstruation

PCOS

Menstrual Cramps

Endometriosis

Menopause & Acne
Going for acupuncture with Dr. Maryam is more than just a treatment. Just being in her presence you feel her warmth and genuine care for her patients. It's this quality combined with her professionalism and expertise at her craft that make her an incredible practitioner. Treatments always leave you feeling deeply rested, and longer term care plans have been successful for me every time. I simply can't recommend Dr. M enough!!
Dr. Maryam is compassionate and collaborative and has customized my treatments based on my personal health care needs. She has set me on a path of greater healing and provided me with clear answers about my body. Her treatments and space are a safe haven to heal and give your body the love and attention it needs, which is hard to find in a fast-paced world. She is professional, knowledgeable, and kind. I highly recommend Dr. Maryam and will continue to keep her on my personal health support team for years to come.
I have been seeing Dr. Maryam for hormonal/digestive imbalances for almost two years now and she has really helped on my healing journey! She is very knowledgeable, kind and intuitive and it is clear that she really cares deeply for her patients. I absolutely love going to her home clinic as it is quiet and peaceful and I always leave feeling more grounded. Thank you Dr. Maryam!
Initial Consult plus Acupuncture 60 min - $160.00
Follow-Up Acupuncture 45 min - $120.00
Follow-Up Cosmetic Acupuncture Facial Rejuvenation 60 min - $140.00
Initial Cosmetic Acupuncture Facial Rejuvenation 60 min - $140.00
Online 30-minute Consult - $105.00
Online 15-minute Consult - $55.00
Initial Herbal Consultation 30 min - $105.00

Mon & Thu: 10am - 7pm
Tue & Fri: 10am - 4:30pm
Wed: 9am - 5pm
Sat & Sun: Closed
Nearby Acupuncture in North Vancouver: