Green Chi Acupuncture
Green Chi Acupuncture Clinic offers a welcoming sanctuary characterized by a serene and inviting atmosphere in North Vancouver. Green Chi Acupuncture is one of the Three Best Rated® Acupuncture in North Vancouver, BC.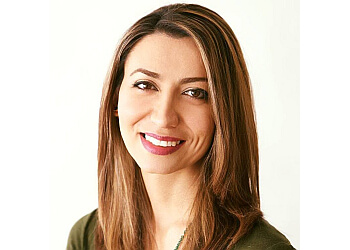 They provide a space where you can detach from the demands of everyday life, allowing the rejuvenating currents of inner love and healing energy to flow freely. Elnaz is a registered acupuncturist who earned her credentials from the prestigious PCU College of Holistic Medicine in Vancouver. Elnaz Miri, an experienced acupuncturist, uses the balance method and takes a holistic approach to tailor each patient's treatment based on their individual needs. She is an esteemed member of the American TCM Association (ATCMA). Elnaz's passion lies in holistic treatment modalities, and in addition to acupuncture, she provides services such as cupping, hijama, moxibustion, and tuina massage. Her practice, both in private and community settings, has yielded numerous success stories. Elnaz has honed her expertise in balance method acupuncture and distal needling over the years, enabling her to address various health concerns. Her philosophy revolves around collaborating with individuals to attain optimal health and well-being.


Specialize in Distal Acupuncture Techniques
Achieve Realistic Health Goals
Provide Direct Billing
Online Appointment.
Respiratory Issues

Facial Rejuvenation

Physical Pain

Whiplash

Emotional Issue

Women's Health

Fertility

Sleep Disorder

Stomach

Stomach Pain & Weight Loss
Elnaz is very professional Acupuncturist. She listens to me carefully and knows there my pain is. I am going to her North Vancouver clinic for my chronic lower back and knee pain and she does acupuncture and hijabs on my back. Each time I feel relief and no pain for a while. I am comfortable in her clinic. Clean and organized and relaxing. Elnaz spend time asking question about over all my health and does acupuncture and cupping as I need for my over all health rather than only pain management. I highly recommend her acupuncture and hijabs.
Elnaz is a friendly, caring and knowledgeable acupuncturist who listens passionately to her clients. I visited her office a few times and I felt welcomed each time. I am so pleased with her service and would definitely go back to her at a regular basis.
Elnaz is very professional and knowledgable acupuncturist. she is really sympathetic and listen carefully to what you say and need ,and recommend you the treatment that fits for you. I highly recommend her for anyone suffering from any pain and looking for an experienced acupuncturist in North Vancouver.
Acupuncture:
Initial (60 mins) $120
Subsequent (45 to 60 mins) $100
Cupping (30 mins) $75
Works with most insurance companies
Nearby Acupuncture in North Vancouver: