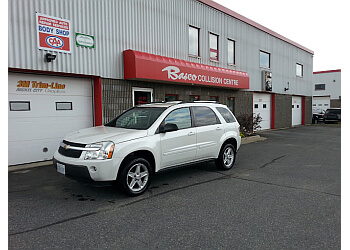 Basco Collision Centre, a locally owned and operated establishment in Sudbury, is dedicated to providing outstanding customer service paired with top-quality repairs and punctual delivery. Boasting an expansive setup with 16 work bays, a 12,000 sqft production area, and ample customer parking for 24 vehicles, the center ensures a comprehensive and accommodating facility. The pride of Basco Collision Centre lies in its cutting-edge cycle time, facilitating swift turnaround, and its commitment to a lifetime repair warranty. Their meticulous adherence to standardized quality control processes guarantees that every vehicle is not only delivered on schedule but also adheres to the manufacturer's exact specifications. Their expertise extends to the realm of luxury imports, showcasing their skill and proficiency in this niche area. The core mission of Basco Collision Centre revolves around safely and profitably restoring damaged vehicles to their pre-accident state. Effective communication stands as a linchpin in ensuring customer satisfaction. From the initial point of contact with clients to the final vehicle delivery, Basco Collision Centre maintains an open line of communication, keeping clients informed at every step of the journey. With a well-equipped paint booth boasting a Nova Verta downdraft system and a Blowtherm unit, as well as specialized welding equipment including a Pro Aluminum Welder and a Pro Spot Resistance Spot Welder, the center ensures top-notch workmanship. They place a strong emphasis on customer contentment, firmly believing that the foundation of success lies in earning their clients' trust through exceptional service and results.

UNIQUE FACTS:
• Insurance Claims & Retail
• M.T.O. Structural Inspections
• Safe Repair Techniques
• Integrity & Honesty
• Professional Team.
Specialty:
Minor and Major Collision Repairs, Dents and Scuffs Repairs, Complete Paint Jobs, Minor Paint Touch Ups, Automotive Detailing, Air Conditioning Diagnostics and Repairs, Frame Repairs & Aluminum Repairs
Contact:
Working Hours:
Mon-Fri: 8am - 5pm
Sat & Sun: Closed
TBR® Inspection Report: