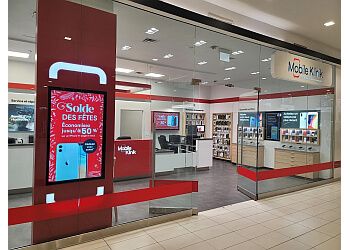 Mobile Klinik, situated in Gatineau, Canada, stands as a renowned and leading company specializing in cell phone repairs. With a team of highly skilled technicians, they possess the expertise to address all cell phone-related issues. They offer swift diagnostics and personalized cost estimates for every problem you encounter. Their services encompass a wide spectrum, ranging from screen damage to complete replacements. Moreover, Mobile Klinik boasts an extensive selection of accessories designed to safeguard and optimize your smartphone or tablet. What sets Mobile Klinik apart is their remarkable efficiency in repairing devices in under 60 minutes, all while maintaining the utmost quality. Beyond being a mere repair shop, Mobile Klinik is a trusted partner dedicated to keeping you connected and ensuring your mobile devices consistently perform at their best. They take pride in delivering unmatched repair services, employing only premium-quality parts in their repairs. Additionally, they provide complimentary services to their valued customers and offer an online chat feature on their website for customer assistance. Booking your service with Mobile Klinik is a seamless process, ensuring your devices receive top-notch care.

UNIQUE FACTS:
• Lifetime Warranty
• Expert Technicians
• Lifetime Warranty
• Over 500 K Happy Customers
• Excellent Customer Support
• Eco Friendly
• Competitive Costs.
Specialty:
Samsung, Nokia, Apple, BlackBerry, HTC, LG, Motorola, Huawei, and Tablet Repair, Diagnostic Services, Water Damaged Mobile, Phone Unlocking, Software Issue, Camera, Home and Volume, and Power Button, Speaker, Broken Phone, Charging Port Replacement, Accessories & Parts
$Price:
Screen:
iPhone 13 Mini $319
iPhone 13 $299
iPhone 12 Pro Max $279
ZFOLD 4 $979
ZFLIP 4 $759
ZFOLD 3 $719
Pixel 7A $299
Pixel 7 Pro $399
Battery:
iPhone 13 Mini $99

iPhone 13 $99
iPhone 12 Pro Max $99
ZFOLD 4 $149
ZFLIP 4 $169
ZFOLD 3 $129
Pixel 7A $119
Pixel 7 Pro $279
Charge Port:
iPhone 13 Mini $159
iPhone 13 $159
iPhone 12 Pro Max $139
ZFOLD 4 $169
ZFLIP 4 $169
ZFOLD 3 $139
Pixel 4A 5G $119
Pixel 3 $99

Discount:
50% Off on Protection Package
Contact:
Working Hours:
Mon-Wed & Sat: 10am–6pm
Thu & Fri: 10am–9pm
Sun: 10am–5pm
TBR® Inspection Report: