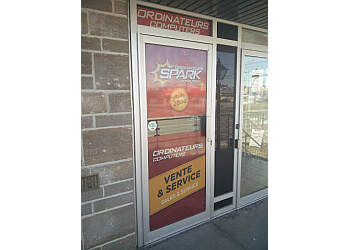 Spark Computers takes immense pride in serving Gatineau and neighbouring areas, boasting over four decades of invaluable experience in the computer repair industry. The tech team at Spark Computers is highly knowledgeable about various computer models and repair techniques, and they have earned a reputation for delivering exceptional customer service. Their skilled technicians specialize in both hardware and software tasks, enabling them to tackle a wide range of computer issues. Moreover, they offer refurbished laptops and desktops sourced directly from reputable manufacturers. With an impressive track record of resolving 38,500 computer problems, Spark Computers is your go-to destination for all your information technology needs. Whether you need assistance with repairs, purchases or seeking powerful custom PCs for intensive workstations, they've got you covered. Simplifying computing for their customers is at the core of their mission, ensuring a seamless and efficient computing experience.

UNIQUE FACTS:
• Superior Quality Products
• Refurbished Laptops
• Free Quotation
• Same Day Repair
• Call Outs.
Specialty:
Software and Hardware Installation, Virus and Malware Removal, Video Cards, Sound Cards, Wireless Adapters Installation, General Troubleshooting, Custom PC Build, Software Updates, Physical Cleaning, Operating System Reinstall and Updates, Components, Custom Build Pc & Computer Tune-Up
Contact:
Working Hours:
Mon-Thu: 9am - 5pm
Fri: 9am - 4pm
Sat & Sun: Closed
TBR® Inspection Report: