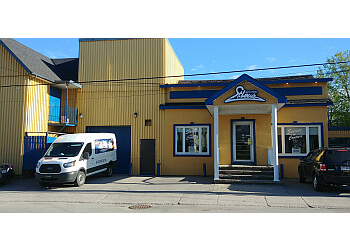 Nettoyeur St-Louis Inc. is a family-operated dry cleaning business situated in Gatineau, QC. They takes pride in its exceptional standing within the Outaouais region. With a long-standing legacy of family ownership, Nettoyeur St-Louis Inc. has consistently garnered trust by providing services of the utmost excellence. Their commitment lies in delivering efficient and impeccably executed services, a value they have upheld throughout their existence. With a network of 6 locations, the company remains rooted in its dedication to quality. The establishment specializes in the meticulous cleaning of garments, uniforms, and even intricate wedding dresses. Boasting a team of over 30 extensively trained employees, they channel their expertise to meet and exceed customer expectations. One of their core strengths is their keen focus on understanding and fulfilling customer needs. Complementing their services, the establishment extends a convenient pickup and delivery option, enhancing the overall customer experience.

UNIQUE FACTS:
• Professional dry cleaning
• Excellent quality
• Fast and effective.
Specialty:
Dry Cleaning, Saree, Tie, Socks, Pants, Blouses, Winter Coats, Suits, Drapery, Skirts, Shirts, Laundry, Uniforms, Ironing, Flood, Water Damage Restorations, Household Items, Fire, Linen, Sweaters, Comforters, Bedspreads, Cotton, Polyester & Wool
Contact:
Working Hours:
Mon-Fri: 7am - 5pm
Sat & Sun: Closed
TBR® Inspection Report: