Matt Ford - Cates Ford Soll & Epp LLP
Matt Ford serves as a partner at Cates Ford Soll & Epp LLP, where he practices as a criminal defence lawyer following his call to the bar in 2011. Matt Ford - Cates Ford Soll & Epp LLP is one of the Three Best Rated® Criminal Defense Lawyers in Kamloops, BC.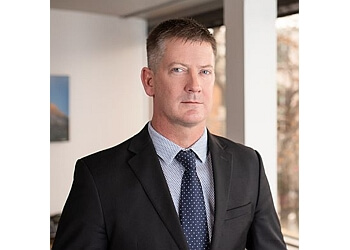 His legal acumen extends to effective representation in diverse judicial domains, including the BC Provincial Court, BC Supreme Court, BC Court of Appeal, and the Federal Court of Canada. His affiliations encompass memberships with the Trial Lawyers Association of BC, the Canadian Bar Association, and the Kamloops Bar Association. Committed to advocating for his client's best interests throughout their legal proceedings, Matt's dedication is evident at every stage of their cases. In 2014, his exceptional commitment and skill led him to become a partner at Cates Ford Soll & Epp LLP, a well-established legal firm situated in Kamloops. The firm's adept team boasts extensive experience across a spectrum of legal domains, encompassing family law, personal injury, wills and estates, civil litigation, estate litigation, criminal defence, business law, and real estate matters. The firm operates with a steadfast focus on client welfare, providing unwavering guidance throughout the legal process. Employing a compassionate approach, the firm's team of lawyers strives to identify the optimal legal solutions for each case, ensuring efficient handling and dedicated support. For appointments, individuals are encouraged to contact Cates Ford Soll & Epp LLP.


Give You Honest and Reliable Advice
Help You Obtain Your Best Possible Legal Solution.
Traffic Offences

Fraud Charges

Appeals

Assault

Charter Issues

Weapons and Drug Offences

Sentencing Matters

Drinking and Driving Offences

Trials at The Provincial Court or Supreme Court Levels

Preliminary Hearings

Arraignment

Bail

Manslaughter

Variation of Probation or Bail Terms & Murder
Best law firm I have dealt with. Matt Ford goes above and beyond, and genuinely cares about his clients, he puts them before his own needs.
Mathew Ford is the best employment lawyer for you anytime, anyday. He is highly professional and very objective in employment case analysis and he aims to give the BEST.
Been some of the best legal help I've ever received. Very caring. Professional. Amazing reception. Thank you Cates Ford Law.
Mon-Fri: 8:30am - 4:30pm
Sat & Sun: Closed
Nearby Criminal Defense Lawyers in Kamloops: