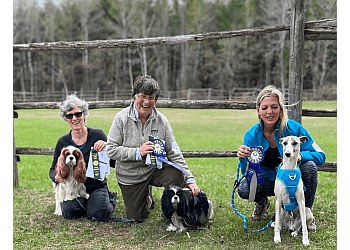 Best Friends Dog Training holds a prominent position among Ottawa's top dog training companies. The business is owned by Kim Cooper, who boasts an impressive 35 years of experience in dog training, with 29 years of instructing training classes. Kim's expertise goes beyond basic training, as she is certified for Search and Rescue (SAR) dogs to OPP standards and has handled six exceptional SAR dogs throughout her career. She deeply appreciates the unique partnership between a working dog and its handler and seeks to instill this special bond in all the dogs she trains at Best Friends Dog Training. The company's main goal is to create a harmonious partnership between dog and owner. They offer comprehensive and affordable training programs suitable for dogs of all ages and breeds. Their professional dog trainer's program is thoughtfully designed and executed with utmost care. Best Friends Dog Training's team of skilled trainers employs motivational and reward-based techniques to guide dog owners in training their furry companions. Their aim is to help your dog shine as the star in the dog park, earning compliments from other owners. Through their training programs, you will learn how to build focus and attention, instill good behavior, and effectively navigate real-world distractions. With Best Friends Dog Training, you and your furry friend can look forward to a fulfilling and successful journey of training, fostering a strong and positive relationship that will make your dog the envy of other dog owners.

UNIQUE FACTS:
• Ottawa's Best Dog Training Facility
• Imagine It, Own It, Train It, Love It
• a Broad Range of Courses in Dog Sports and Activities
• They Also Provide Online Booking Option
• Uses Motivational, Reward-Based Techniques.
Specialty:
Intermediate Classes, Reliable Recalls, Agility Fundamentals, Agility, Flyball, Beginner Obedience, Puppy Kindergarten, Novice, Therapy, Advanced, Intro to Scent Detection, Dog Training Foundations, Tracking (Practical classes), Obedience Fun Match, Private Instruction, Group Class & Behavioural Issues
$Price:
Professional Dog Trainer's Program:
Unit 1 Dog Training Foundations (32 hours) $600 + HST
Unit 2 Instructional Techniques (34 hours) $500 + HST
Unit 3 Advanced Trainer Skills (36 hours) $500 + HST
Unit 4 Behavioural Modification (17 hours) $400 + HST

Contact:
Working Hours:
Mon-Thu: 12am - 9pm
Sat: 9:30am - 4pm
Sun: 9:30am - 10pm
Fri: Closed
TBR® Inspection Report: