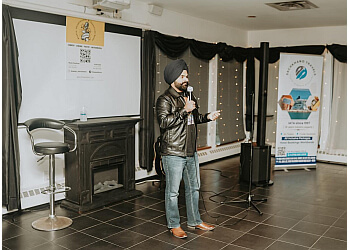 Showman Entertainment, Events, and Production House Inc. stands as a premier Event Production House in Surrey, embodying a passionate collective of art enthusiasts, each possessing unique artistic prowess. They are ready to curate exclusive and personalized festive experiences tailored to your special occasions. Whether it's creating a distinctive wedding, orchestrating a corporate gala, celebrating joyful events, hosting vibrant festivals, presenting captivating performances, or embarking on any entertainment venture, this journey can often evoke anxiety. However, with unwavering support from in-house local artists, they effortlessly generate unparalleled and innovative outcomes. Beyond their mastery in delivering exceptional musical productions, their performances transcend mere entertainment, igniting a positive impact on community life by bestowing moments of joy and enlightening insights.

UNIQUE FACTS:
• Exceptional Quality
• Every Fortnight Open Mics.
Specialty:
Local Artists, Comedy Show, Kids Parties and Magic Shows, Singers, Wedding, Corporate Event, Celebration, Festival, Performances, Venue Sourcing, Event Management, Corporate Entertainment & Team Building
Contact:
Working Hours:
TBR® Inspection Report: