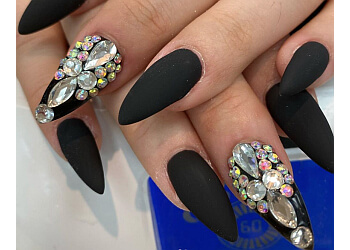 Icon Nails & Spa presents a refined selection of nail services within a sophisticated ambiance, catering to its esteemed clientele. Their expertise spans acrylics, gels, solar, shellac, as well as manicure, pedicure, waxing, and nail art, embracing a comprehensive range. The establishment's primary objective revolves around ensuring you maintain a fabulous appearance. Dedication to offering an unparalleled nail experience resonates through their commitment to exceptional customer service and nail therapy. Their diverse collection of the latest nail colors and design sets guarantees an exceptional polish service encounter within a comfortable setting. The salon's adept and professionally trained staff provide customizable and budget-friendly nail services, further enhancing your experience. With an unwavering focus on delivering stellar service to ensure your satisfaction, Icon Nails & Spa extends an invitation for you to step into a haven of beauty and relaxation. Whether you walk in or have a gift card in hand, their doors are open to welcome you.

UNIQUE FACTS:
• Comprehensive Services
• Potential Specialties
• Customer-Centric Approach
• Distinctive Atmosphere.
Specialty:
Nail Tip Repair, Gel and Acrylic Full Set/Fill, Solar, Acrylic/Gel Nail Removal, Polish Change on Hand/Feet, French Manicure, Shellac Colour, Design & Waxing
$Price:
Acrylic Full Set $30
Acrylic Fill $25
Solar (Pink & White) Full Set $50
Solar (Pink & White) Fill $40
Gel Overlay $5
Gel Full Set Clear $45
Gel Fill Clear $30
Gel Pink & White Full Set $55
Gel Pink & White Fill $45
Manicure $18
Pedicure $30

Special Manicure & Pedicure $45
Acrylic/Gel Nail Removal $15
Nail Tip Repair $5 & up
Polish Change On Hand $10
Polish Change On Feet $12
French Manicure On Hand $10
French Manicure On Feet $15
Manicure & Shellac Colour $30
Manicure & Shellac French $35
Pedicure & Shellac Colour $40
Pedicure & Shellac French $45
Shellac Colour $20
Shellac French $25
Shellac Removal $10
Design$5 & up
WAXING SERVICE:
Eyebrow $7
Lip $5
Neck Or Face Wax $15
Chest , Stomach Or Shoulder $20
Back $25
Full Arm $25
Half Arm $20
Under Arm $10
Full Leg $40
Half Leg $20
Bikini $15

Contact:
Working Hours:
Mon-Fri: 10am - 7pm
Sat: 10am - 6pm
Sun: 11am - 5pm
TBR® Inspection Report: