Nishka Riley Mortgage Team
The Nishka Riley Mortgage Team, operating as a mortgage broker in North Vancouver, specializes in tailoring mortgage loans to meet the unique needs of individual clients. Nishka Riley Mortgage Team is one of the Three Best Rated® Mortgage Brokers in North Vancouver, BC.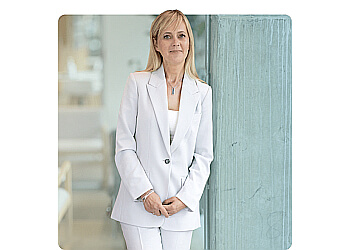 Nishka, the owner and experienced mortgage broker, boasts over 28 years of experience providing financing solutions in Vancouver, North Vancouver, and the Tri-City areas. Nishka and her team adopt a consultative approach to assess your mortgage requirements comprehensively. With an extensive network of 50 lenders at their disposal, Nishka's team excels at identifying the ideal solution for your specific mortgage financing needs. Over the years, they have successfully facilitated more than 3,400 mortgages within the region. Their mission is to simplify the entire financing process, allowing you to concentrate on discovering the perfect home. Dedicated to fostering long-term client relationships, they uphold core values such as integrity and professionalism throughout their interactions. From the initial consultation to the final signing with the lawyer, you can trust that your financing solutions have been meticulously crafted to align with your unique financial situation, providing you with the comfort and peace of mind you deserve.


She Has a Award Winning Industry Experience
Help You Through Any Situation.
Home Equity

Renovation

Renewal

Investment

Residential

Second Buyer

Lines of Credit

First Time Buyer

Construction & Property Loans
Nishka is a complete professional. She works around the clock to be a trusted advocate and advisor for her clients, and frequently went way above and beyond the call of duty to make our lives easier (ie. she drove out to our home way out in the forest to bring us documents to sign so we didn't need to interrupt our hectic work schedules.) She also answered my numerous and annoying texts at all time of morning and weekend. I absolutely trust Nishka and would very highly recommend her services to anyone looking at a financing a new home.
Nishka helped my husband and I secure a mortgage as first time home buyers. She did an amazing job walking us through everything and answering any questions we had along the way. Nishka made the process of securing a mortgage as a first time home buyer far less daunting. I would definitely recommend Nishka to anyone looking to secure a mortgage, she is amazing at what she does!
Nishka helped my partner and I with the purchase of our first home. From day 1 she was extremely helpful! We had many questions throughout the process, which Nishka always answered happily and quickly with clear and helpful responses. We will definitely work with her in the future and would highly recommend her. She was a pleasure to work with!
Mon-Fri: 9am - 9pm
Sat & Sun: 9am - 12pm
Nearby Mortgage Brokers in North Vancouver: